Wix to WordPress
Website owners who desire more flexibility and attributes without high costs, they are the ones who should migrate from Wix to WordPress. Wix to WordPress is a big decision to take. While WordPress is more complicated than Wix, it also offers more features and is more flexible than Wix.
Wix is intended to be a friendlier website builder. Wix is more like an off-the-rack building. You can choose it before buying it. But once you purchase it, you cannot change anything about the structure. You can only decorate it. You can paint the walls, pick out furniture to make it cozier.
But we cannot take any actions until we know more about these two website builders. First, we will weigh out our options, and we are going to make a final verdict. So, stay tuned!
Wix
After the emergence of Wix, everyone could build their websites. It did not matter whether you knew everything about website designing or your knowledge was close to none. No matter the skill level, you could build yourself a website to your liking.
With this drag-and-drop website builder, you could choose to build a website from scratch. Or you could choose a template offered by Wix's powerful template editor and build a website of your own, without the need to know a single word of code.
Wix is an exemplary AI platform and a template website designer as well. You have the option to choose from a massive variety of over 500 industry-specific templates. Then you can choose to edit that template to your preference with the powerful template editor that Wix offers. And finally, you can drag and drop it to make your website.
Wix also offers another method of production. Wix features a top-of-the-line Artificial Design Intelligence (ADI). By answering a few simple questions, you can have Wix make a personalized website to your liking. Do note that you cannot make any vital structural changes after the website has been built.
Advantages:
Massive Template Collection: Wix is generous with its templates to a fault. It offers its clients over 500 templates to choose from. Whereas some website builders offer such a small number of templates that it is laughable. They have a massive collection of templates for everyone.
These templates feature exceptional designs and contain some pre-entered content. You have the choice to build on it or use a blank slate.
Drag and Drop feature: The drag and drop feature of Wix is its heart. The easy to use interface keeps things simple for beginners. But it also contains enough options to build you a powerhouse site. It also has a mobile editor. This allows us to check and customize our site when it would be presented on mobile.
Wix App Market: Wix has a full spectrum of applications. You can use these apps to perform any particular task on your Wix site, such as newsletter tools, online booking widgets, etc. Do note that some of these apps are third-party apps, and Wix is not responsible for them.
Artificial Design Intelligence (ADI): With Wix ADI, you do not have to do anything. The ADI will inquire you a few questions and learn about you and build the most suitable site for you.
Disadvantages:
Templates Not Interchangeable: You have to be very careful with what template you pick and how your content will look on it. Because once you set your template, you cannot change it to a completely new one or transfer your content to another.
Pricing: The cheapest package that Wix offers, apart from the free one, starts at USD 14 per month. And this is much more pricey than its competition.
But, websites hosted by Wix free of cost force you to advertise Wix branding. It appears even before the website header at the top of the page.
Non-transferrable: Not only that, you cannot transfer your contents to another temple; you also cannot transfer your contents to another site. That means that you will have to incur huge costs again to recreate your site and its content.
WordPress
WordPress is the most popular and most straightforward way to build your website. According to a statistic, one in four websites is probably powered by WordPress. It is also known as the most powerful website and blog content management system (CMS).
A CMS is a tool that helps you to manage several features of your website, such as content, hence the name content management system. It helps you do so without needing you to have any programming knowledge. WordPress is an open-source CMS. It is licensed under GPLv2. This means that everyone can use and customize WordPress software without paying.
Although WordPress was built to create a blog, that is not its only purpose anymore. By bringing some changes to its core code, the developers have made it possible for you to create any website by using WordPress. Such as blogs, eCommerce websites, business websites, membership websites, portfolio websites, forum websites, etc.
Advantages:
Adaptable and Flexible: WordPress powers a vast variety of websites, each with different purposes. No matter what your requirements are, WordPress can build a website about your specific needs. And better yet, your website can evolve with you. WordPress powered sites are adaptable to your changing needs.
User Friendly: WordPress can turn you into a website owner despite you having no technical knowledge. You can install and run a WordPress powered site within minutes. All you require is a web hosting account and a domain name.
After installation, these sites have a manageable and intuitive Admin dashboard. Through this dashboard, you can edit themes and create content without much effort.
Extensibility: WordPress themes provide users with a variety of options. You can fine-tune your website's appearance and functionality with these themes and plugins. There are over 50,000 free plugins and 5,000 free themes available. You can also buy tons of premium themes and plugins to extend your website.
Mobile Responsiveness: WordPress provides users with a set of dynamic theme designs. You can also make a static site into a dynamic one with plugins and customizations to the theme files.
Thriving Community: The WordPress community is the one that supervises the changes to the source code, keeping it secured and updated. You can also get involved with the community through the various WordPress camps they host. This community is a helpful, welcoming, and innovative one.
Disadvantages:
Vulnerability: The biggest problem with WordPress is its security. Since it is an open-source platform, WordPress relies on themes and plugins updates. Since there is no official supervisor of WordPress, anyone can put in bugs or malicious codes in the updates.
Costly: Even though WordPress itself is free and offers a massive collection of free themes and plugins, there are a lot of themes and plugins that are not free of cost. And since WordPress relies on them for functionality and appearance, it may become quite expensive to give your website more functionality and keep it up to date.
Page Speed: There are some particular themes on WordPress that contain excessive amounts of generic codes. This can decrease the speed of your site, causing slow load times.
Wix to WordPress: Differences
Wix is a full-service website designer. And the self-hosted WordPress is known for its Content Management System. Both of them can help a user set up a functioning website without having any coding knowledge. But there is a considerable give-and-take between using Wix and WordPress.
Ease of Use: The usability varies from WordPress to Wix. Wix being a hosted platform, the control over its tools and applications belong to the developers. As a result, the users cannot import those from outside sources.
Whereas in WordPress, the user maintains control over most of the functions available. But the learning curve of operating a WordPress website is steeper than that of Wix.
Versatility and Flexibility: Wix includes no feature to accommodate growth. This hosted builder shares storage and bandwidth amongst its users. So, it is not uncommon to experience sudden spikes in traffic.
WordPress sports limitless virtual versatility. Users can use themes and plugins from worldwide developers. And this is the main reason for its ever-growing popularity.
Costs: As Wix is a hosting platform and a site builder, its prices are pre-calculated. As your site grows, you can opt for Wix's higher pricing plan to suit your needs. You do not have to worry about external costs such as developer services, assets from outside sources, etc.
But in WordPress's case, although it is free to install and use, you may need to buy features and functions for your particular need. These costs can add up to a hefty amount in the long run.
ECommerce Support: Even though Wix has several eCommerce themed templates, you cannot get full functionality by using only that. You will have to buy Wix's eCommerce web hosting package to get the critical eCommerce tools. WordPress offers a vast collection of eCommerce plugins and themes. You can use them to create your site and scale it up as your venture grows.
How to Transfer from Wix to WordPress
If your Wix website has grown over time and Wix can longer accommodate it, you may wish to migrate from Wix to WordPress.The steps are as follows.
Getting Ready
Buy Hosting
Every site needs hosting. It stocks your site's content and displays them to your clients. With Wix, the clients use a bundled hosting. So, you have to get hosting for your WordPress powered site when you transfer from Wix to WordPress. You also have to buy a domain name.
Setting Up
After buying hosting and a domain name for your site, you can start building a new home for your site now.
1- Install WordPress: You can install WordPress by using a one-click auto-installer. After the installation has been completed, you will now have a login that gives you access to your site's backend.
2- Setup Site: Login to the admin panel, and you can see your admin dashboard. You can change your site's tagline and title from here.

3- Customizing: Your WordPress site can be customized using plugins and themes. You will find them in Appearance>Themes> Add New.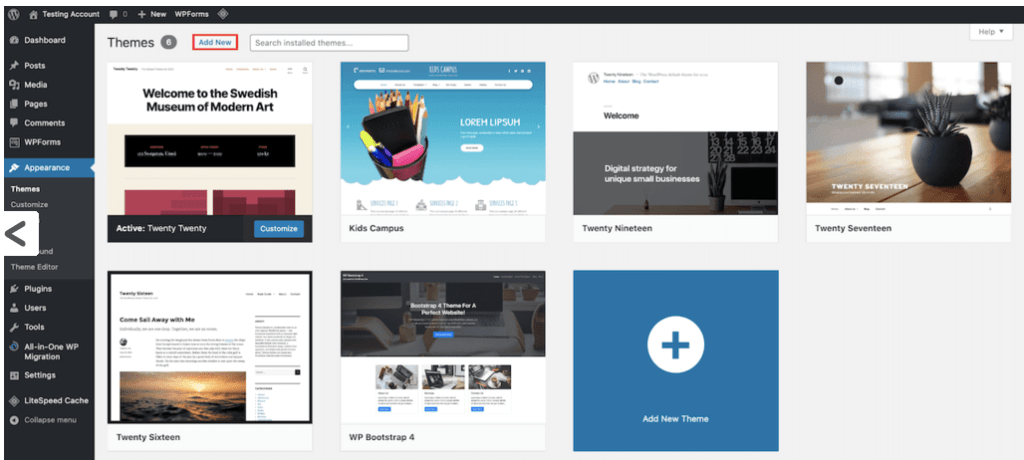 4- You can customize them from Appearance>Themes>Customize
Now we are ready to transfer from Wix to WordPress. We have two options do that. They are:
Importing Content From Wix to WordPress
Using An Automatic Migration Plugin
1. Importing Content From Wix to WordPress
1- Locating the RSS File: Add /feed.xml to the end of your Wix site URL.

2- Saving the RSS File: In your browser, if the code does not appear, then right-click on the page and select 'view page source.' The code will appear, and you can save it to your computer.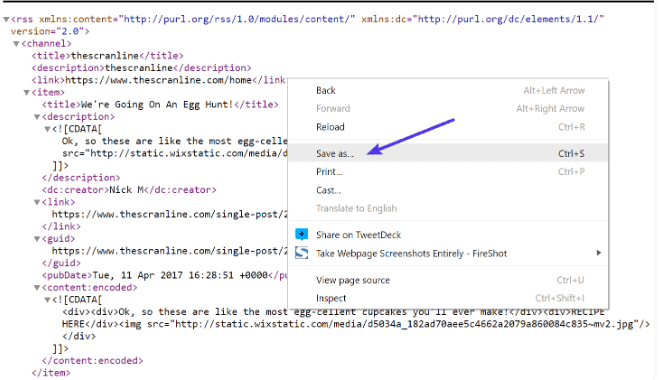 3- Import into WordPress: In your WordPress admin panel, go to tools and select import. Use the 'Run Importer button to import the RSS file.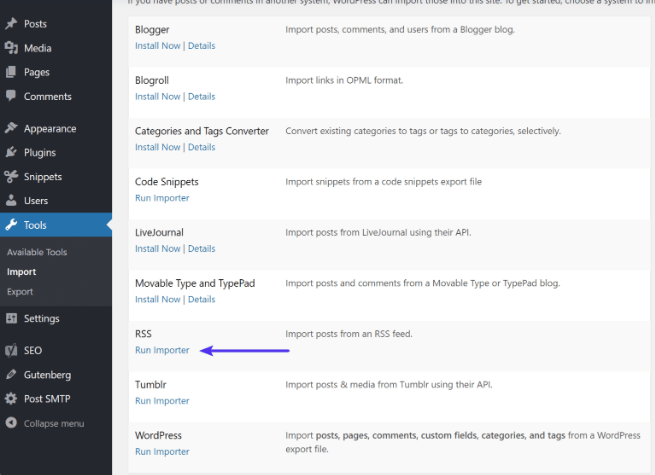 4- Uploading RSS: Select the file that you saved earlier. Now click 'Upload File and Import'.
5- Migrating Images: After exportation has been completed, you will now have to add images to your site. You can do it by copying and pasting them. Or, you can use an extra plugin, 'Import External Plugin'.
Install and activate the plugin. Then, go to Media>Import Images and select the 'Import Images Now' button.
6- Adding Pages: Finally, we have to add our Wix pages to WordPress. We have to do it. To do this, copy the contents of your Wix site and go to WordPress Admin Panel and navigate to Pages>Add New. Then paste the content here. After you are satisfied with the page, you can select the 'Publish' option to make it live on your WordPress site.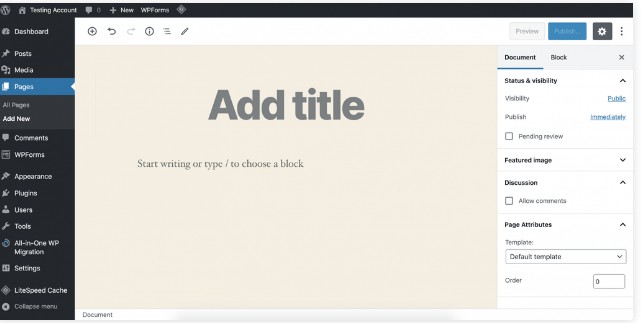 2. Using An Automatic Migration Plugin(CMS2CMS)
1- Installing Plugin: Go to your WordPress admin panel. Then navigate to Plugins>Add New. Search for CMS2CMS. Then install and activate it.

2- Create An Account or Log In: Go to Plugins>CMS2CMS Connector and open it.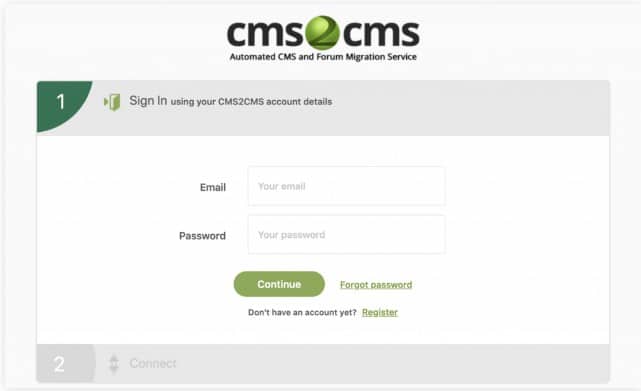 3- Connect to Your Wix Site: After entering your Wix URL, you are now ready to convert from Wix WordPress.
4- Run the Migration: Now edit your migration settings. Next, click 'Start Free Demo Migration.' It will show you an error report if any error occurs.
You will receive a price quote. If you are okay with all the settings and the migration price, press okay. And the process will start and finish by itself.
See also:
1- WordPress vs Shopify Which Is Better for You?
2- How To Transfer wordpress.com to wordpress.org? (Full Guide)
---
Bottom Line
Wix to WordPress, it depends on your specific needs. No matter which you choose, we hope you will be aware of your needs after reading this article. And even if you decide to do so, you can now easily migrate from Wix to WordPress.