The subdomain is the extra part of your main domain name. It is basically a domain inside of a domain. It is used to organize and navigate different parts of a website. You can make many subdomains or child domains on the main domain.
For example a
This.isbeautiful.com
Here, 'This' is the subdomain, 'is beautiful' is the primary or second-level domain and .com is the top-level domain (TLD). It's okay to use any type of text as a subdomain, but it should be simple and easy to remember.
So, from this simple example, we have learned that there are three parts to a domain name
Top-level domain
Primary or second-level domain.
Subdomain.
---
How Do Subdomains Function?
An underground network keeps all the computers around the world connected. When a person visits the site This.isbeautiful.com, the computers communicate with each other to identify the parts required to load the site. This occurs because of the Domain Name System (DNS).
Everything that can be connected to the internet has an IP address from websites, laptops, and mobile phones to Amazon Echo. When you search for a URL, the DNS will link you with the website or device you want using the IP address which consists of a unique string of numbers.
This unique series of numbers are difficult to remember, unlike domain names which are simple, short, and easy to memorize.
DNS is a hierarchical system that functions like a telephone book, and a contact list to store all information. Its process starts the moment you type a domain name like This.isbeautiful.com into your browser's address bar. After typing your query, your PC or the device you're using will ask for IP's DNS server to provide the ISP address.
Then the DNS server responds to the call with the correct IP address. After that, your device provides an IP address to the browser. Now the server has a connection to the browser and obtains the website data you typed using the IP address. Then it shows it on your screen.
So basically, DNS is a tool to translate a domain name into its IP address which is used to find the website and display it on the screen. On the other hand, subdomains are simple, easy-to-remember addresses for humans that the DNS translates.
Usage of Subdomain
A subdomain is widely used to test or stage a version of a website. Before publishing a site live on the internet, developers sometimes test plugins and different updates on a subdomain staging site.
You can use a subdomain to create an online eCommerce store. eCommerce site usually needs a complex build-up. So, some companies want a different subdomain to handle transactions.
It is common to set up WordPress on a subdomain and it works separately from the main website.
Another use of a subdomain is to serve a particular group of people, for example: 'guest.yourwebsite.com' This is the way website builder platforms provide custom websites for users.
Subdomains can also be used for the proper management of website content.
Some companies also use subdomains to create subsections and mobile versions of different websites.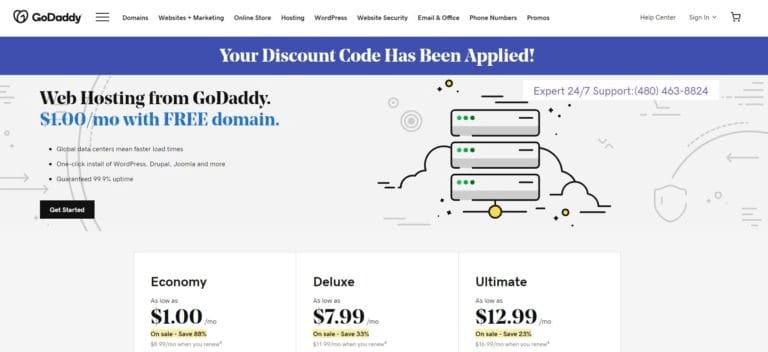 If you want a subdomain that's easy to use and takes little time to make websites, GoDaddy is the way to go. It also provides additional tools for CRM, social media management, newsletters, and much more.
Things You Need to Know about GoDaddy subdomains:
Ease of Use
You don't need to be particularly tech-savvy or know a lot about programming to use GoDaddy. Anyone can easily use it.
An Array of Tools
GoDaddy's goal is to be the one-stop solution for your online business. They have tools for content creation, email marketing, social media marketing, making appointments, and more. None of these features are really groundbreaking, but they cover the basic stuff. These tools are well integrated and you will enjoy using these if you want to prefer an ecosystem. All of the tools are available in every one of their website plans.
Limited Customization
GoDaddy has a few limitations when it comes to adding extra elements, styling, and customizations. You can't add custom sections or new code. There are no variations in the home pages, they all look virtually the same. It doesn't help that you can't change the theme of the website.
Bad Ecommerce Features
Though it's less costly than the other the likes of Squarespace and Shopify, it doesn't come close when it comes to quality. GoDaddy didn't even make the basic features properly.
When people will proceed to checkout, they will be redirected to mysimple.store.com from your domain. This is bad branding and customers may find it untrustworthy. Moreover, you can't customize email receipts and its tax and donation system are also problematic, if Ecommerce is your main thing, don't go for GoDaddy.
Affordable Price
GoDaddy has one of the cheapest plans among its competitors. It even has a free plan. One cool thing about it is all of the features are included in a single bundle, while other companies take extra charges for those features.
How to Add GoDaddy Subdomain
Here are the steps to create a subdomain GoDaddy in the DNS zone file:
First, log in to the Domain Control Center of GoDaddy.
Choose a domain name from the list to have access to the Domain Settings page.
Choose 'Manage DNS' from additional settings.
Click 'ADD' which is located below the Records section.
There is a Type drop-down menu, select 'A'.
Now you have to provide information about these fields. 1) Host 2) Points To 3) TTL.
Finally, click SAVE and it's done.
At least wait for 48 hours for all the effects of the DNS changes to take place globally.
WordPress Subdomain
WordPress is the most widely used website building platform. It is an open-source content management system (CMS). We are going to provide you with some pros, cons, and different features of WordPress before you decide to use it as your subdomain.
It's completely free and gives you complete autonomy of your site. You have total control of all your files and data.
It has a huge stock of plugins, extensions, and add-ons for your websites. This gives you the opportunity to create anything you want with these professional applications.
It increases the speed of your sites and with the cool 'SEO best practices you can attract new users.
By using loads of designs, customization options, and templates you can easily create your own website. These options allow you to show your creativity, and personal style making the process of building a website easy.
Using WordPress warrants extra attention because you have to be careful about its security backup. You also have to regularly install updates.
There is no need to learn to code, but having primary knowledge about HTML and CSS will make your job easier.
Most of the third-party tools and applications have integrations for WordPress. So, tools like email marketing software, SEO tools, CRM software, etc., are compatible with WordPress.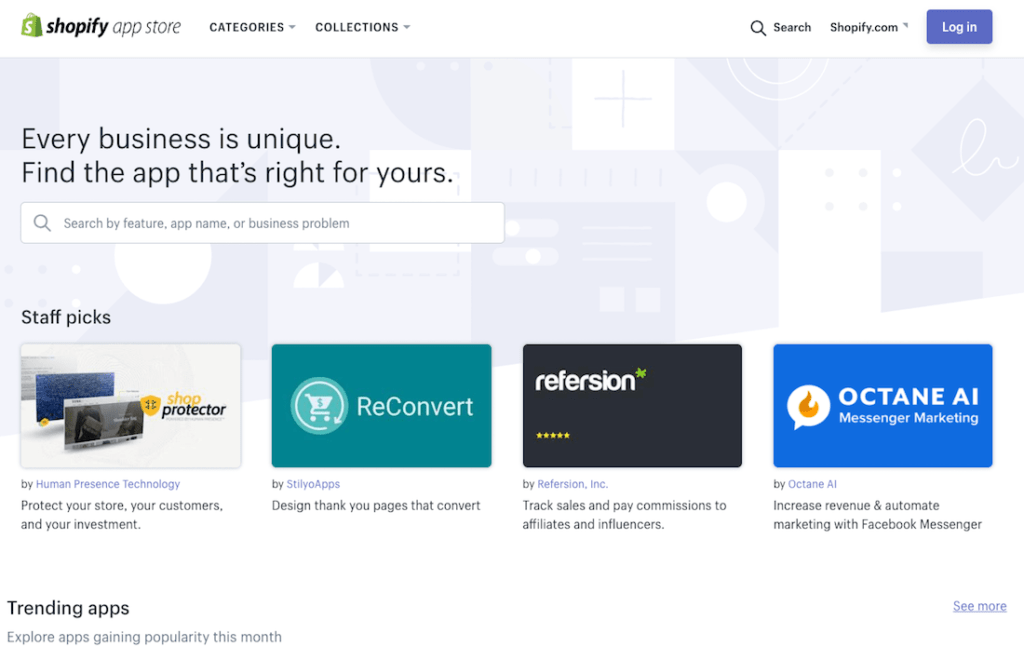 Shopify is regarded as the best service to provide an eCommerce solution. It allows you to create online stores without coding. You don't need any hosting service or software installations either. Basically, it's a simple way for launching and managing your online stone.
Before adding Shopify to your subdomain, you should know its pros and cons.
Pros:
Most of the stuff can be done with a click of a button. So, there is no need to fret about the technical parts. It also comes with a beginner guide and extensive documentation.
It has a stock of 170 themes which looks excellent. By using the Liquid Template Engine, you can make your own theme. Not to mention there is also the option of buying.
The Shopify app store is full of free and unpaid add-ons.
Its 24-hour support team can assist you with any problem.
Cons:
The URL structure of different pages and blog posts is not a good fit for SEO.
If you don't use Shopify Payments, they will charge you a transaction fee along with the payment processor fee.
Although you can make other types of pages, Shopify is not ideal for making non-eCommerce content.
Squarespace has the best-looking websites. Its tools and support are one of the best in the business. Its latest versions have new features like Google Workspace, Getty Images, and Cover Page Builder. There are some new upgrades on editing. If you want a website that looks stunning, cool, and impeccable, you can add Squarespace to your subdomain.
Pros:
Squarespace has a collection of over 100 themes that are optimized for phones, tablets, and other devices. Their attention to detail in designs, fonts, images, and just about anything will catch anyone's eye.
It has a lot of great features multi-author functionality AMP support and the ability to schedule posts, etc., for blogging.
There are four different types of Squarespace apps that allow you to edit almost any part of a website.
It provides a 24-hour ticket system and lives chat.
Cons:
The editor doesn't have any autosave option and takes a lot of clicks to perform a simple task.
It's not ideal for making larger or multilingual websites.
It has a low page speed.
It doesn't come with any backup feature except for exporting blog and product data.
Wix has gotten a lot of popularity in recent years. It is one of the biggest website-building platforms and hosts about 160 million websites. It's ideal for small business artists and optimized for mobile and tablets. However, before adding Wix to your subdomain, you should know the following.
Pros:
Its templates have beautiful designs and provide pre-built layouts for different applications.
The website builder is very flexible, you can easily move around with its elements.
It allows you to add different types of animations.
Cons:
The other competitors offer a cheaper option than Wix's plans.
After choosing a template, you have to stick with it. There is no option to change it. You change the design but can't select a completely new one.
The loading time of Wix's pages is a bit slow.
Wix is mainly ideal for smaller websites but you can also use it to make large websites. Although its navigation menu can't provide room for complex site structures.
Your website contains a lot of sensitive and important information. So, it's important that your website is secured. Here are two ways you can make your website more secure:
In order to have HTTPS for your website, you need to have an SSL certificate for the subdomain. SSL stands for secure socket layers.
To install HTTPS, you need to follow these steps:
You need to host using a dedicated IP address.
Purchase the SSL certificate and install it.
In order to use HTTPS update the site.
Cloudflare is a type of DNS service. It provides various degrees of protection for your subdomain from brute force or malicious attacks and hacking attempts. Cloud also provides a CDN like WordPress, so you can even make websites with it. Although their DNS service is more commonly used. So, adding Cloudflare to your domain is also a wise choice.
See also:
1- How To Change Domain Name on WordPress?
2- Simple Domain Host? (Best ways – 14 Tips And Tools)
3- Just Hosting Login
---
Conclusion
So, we have discussed subdomains, their uses, different website-building platforms you can add to subdomains, and how to make your subdomain more secure. To recap, a subdomain is a section of the URL that sits before the 'main' domain name and its extension. Subdomains can assist you in dividing a website into logical portions and making different sites. For example a dedicated blog for each football team.
We believe we have helped you to learn the basics of subdomains and other relevant details. Try to apply this knowledge by creating your own website.
Best of Luck!