Here is The Best Way for Installing WordPress Website. WordPress is the easiest to use CMS on the market. Millions of people around the world use it every day . WordPress is known as the most popular website builder in the world.
It has boosted more than 39% of all websites on the Internet. The main reason is that WordPress is easy to install, making it easy for anyone to create a website. All the best WordPress web hosting companies allow you to install WordPress in just a few clicks.
In most cases, installing WordPress is a simple process that takes less than five minutes. In this post, our goal is to offer a complete WordPress installation tutorial for beginners and advanced users.
1- install wordpress locally in your computer
WordPress is not designed to work on a personal computer. Instead, it must be installed on a web server in order to run. But that's exactly what Local does. You create a private web server on your own computer, and then install WordPress for you.
In fact, you can install multiple instances of WordPress, so you can create as many WordPress sites as you like, directly on your own computer. That's probably why Local has become the best choice for WordPress developers who build a website for their customers.
Local makes it very easy to install WordPress on your Mac, Windows or Linux PC and develop your entire WordPress site locally. Then when you are ready to do this live, you can push your local site to Siteground or Bluehost for hosting with a single click in the app.
2- install wordpress manually on web server
WordPress is relatively easy to install on a web server, compared to other web publishing software. It usually takes less than five minutes to complete, and many shared web hosts offer tools like cPanel or Fantastico that allow you to install WordPress on your web server in just a few clicks.
First of all, you will need PHP 7.3 or higher and MySQL 5.6 or MariaDB 10.1 or higher
Now install WordPress following these steps :
step 1 : Download the latest version of WordPress from: WordPress.org
step 2 : Upload WordPress software to your web server, using FTP.
step 3 : Create a MySQL database and a user for WordPress.
step 4 : Configure WordPress to connect to the newly created database.
Finally : Complete the installation and set up your new website!
3- Installing your wordpress website by your host company
That is, Managed WordPress hosting companies take care of all these elements for you, so that you can focus on what matters most to you. After creating your website. A managed WordPress host will be responsible for :
Preinstall WordPress software for you.
Keep your WordPress software, plugins and theme updated.
Back up your site every night. Monitor your site 24 hours a day, 7 days a week for malware, security vulnerabilities, or attempts Fix your site in case it is never compromised due to a security breach.
Optimize your web server technology specifically to host WordPress sites.
Automatically scaling resources to handle increased traffic if your site suddenly receives a large number of visitors. Provide exceptional support from well-trained WordPress experts, not just someone reading a script.
Installing wordpress on Bluehost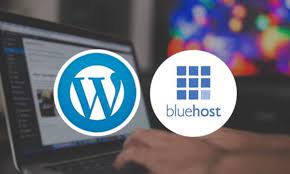 Bluehost is an officially recommended WordPress hosting provider and one of the largest hosting companies in the world. They know WordPress in the back and have the most beginner WordPress friendly installation process.
Bluehost automatically installs WordPress on your domain name when registering. Once logged in to your Bluehost account, you will find your WordPress site under the "My Sites" tab.
You can simply click on the "Connect to WordPress" button, and it will take you directly to the WordPress admin area. With the exception of its "Basic" plan, Bluehost also allows you to install WordPress on unlimited sites with all your hosting plans.
Just click on the "Create a site" button in the "My Sites" tab to get started. This starts the WordPress Bluehost Guided Setup Wizard.
First of all, it will ask you to provide a site title and possibly a currency. Click the "Next" button to continue. After which, you will be asked to select a domain name and path for your website. If you have already purchased a domain name, you can select it from the drop-down menu.
You can always purchase and add new domain names to your account by visiting the "Domains" page of the hosting panel.
After selecting your domain name, you can leave the directory path blank and let Bluehost choose it for you. The installer will also display some essential plugins that you can install.
You can now click the "Next" button to continue. The installer will configure your WordPress site, which may take a few moments. After that, you will see a success message with the details of the WordPress site.
Installing wordpress on SITE GROUND
eGround is a popular choice among WordPress beginners. They are known for their excellent support and highly optimized WordPress hosting plans. SiteGround offers fast and painless WordPress installers with all their plans. You can install WordPress directly from your hosting panel.
We will show you two different methods to install WordPress on SiteGround. You can choose the one that works for you.
Installing WordPress on wpbeginner
the appropriate section.
there are many hosting companies in the world like :
Bluehost
HostGator
WP Engine
cPanel
Softaculous
QuickInstall
Fantastico
See also:
WordPress Best Themes for Blog
Best WordPress Videos Themes
---
Conclusion
We hope this post helped you learn how to easily install WordPress. Now after you have successfully installed WordPress, here are a few things to start with your new WordPress site. First, Choosing a theme ,It's the visual appearance of your website powered by WordPress is controlled by Themes.
There are thousands of WordPress themes available for you to choose from.
Then, Installing and using WordPress plugins The true power of WordPress comes from the vast collection of plugins. They are like apps for your WordPress site, allowing you to extend functionality and add new features to your site. There are more than 58,000 free plugins available only in the WordPress plugins directory.
There are more plugins available on third-party websites such as paid plugins. Finally, start to learn wordpress and how to post useful articles at your website.
client icon blog login instructions