WordPress is classified into two types:
the version of WordPress No.1 – WordPress.com enables you to create a WordPress website on the WordPress server.
the version of WordPress No.2– WordPress.org allows users to create a WordPress website, but you should configure WordPress around your Own server.
Everyone who is familiar with website development has heard of WordPress, a leading platform in the industry. However, beginners in the WordPress space may often find themselves wondering about the difference between WordPress.com vs WordPress.org in addition to knowing com vs net vs org. As you sign up for developing a WP website, you will be introduced to both of these options.
You might be feeling flustered as to what they are, and which one would be the right choice for you. Hang tight, we are going to break down their key differences for you. Then we should know everything about How To Transfer wordpress.com to wordpress.org.
---

WordPress org vs com
WordPress.com and WordPress.org are two entirely different web solutions. The key difference between the two lies in the method of hosting your site. While WordPress.org allows you to host your own site, WordPress.com does not. The latter platform carries the noble duty of taking care of your website by itself.
Here's an easy way to remember all these. The ".org" extension stands for "organization" while the ".com" extension stands for "commercial."
WordPress.com is an all-in-one web solution that allows you to build and customize your own website. On the contrary, WordPress.org is an open-source web solution that will operate a website for you. 
Both platforms are free to get started with. However, there may be some passive charges included. As for WordPress.org, you will need to have a web server and a website hosting provider, which comes with a separate charge. But WordPress.com does not require you to register with an external domain name or hosting plan. All you have to do is register for an account and begin building a site.
WordPress.org allows users to access site codes and files and manage them in any way they deem right. In contrast, WordPress.com helps users who want to publish a site much faster. They take care of all the technicalities and maintenance and run a hosted platform on the current WordPress version. 
Even if you have no experience with designing or writing codes, the platform simply allows you to pick a theme and begin publishing your blogs or posts. WordPress.com, therefore, is a popular choice among bloggers, students, and content creators who don't have the time or interest to dedicate themselves to customizing a website. It's more like a simple intuitive drag and drops website builder experience.
On the other hand, WordPress.org offers a wide range of plans, from basic to advanced. You can begin your journey by using a free plan, and as you begin to generate more traffic or scale your business, you may upgrade to an advanced paid plan. WordPress.org's functionalities resemble that of a self-hosted WordPress VIP site.
WordPress.com Pros
The platform is extremely beginner-friendly
Your site will be up and running in the shortest possible time
Updates and backups occur automatically, at a regular interval
WordPress.com Cons
The company will place its ads on free websites and monetize from them. You won't get a share of the revenue, and cannot control the ad space
Google Analytics is not compatible with WordPress.com, so you are limited to the stats offered by the company itself
You cannot upload custom themes, plugins, or apps on your site. Moreover, you cannot offer membership for premium content
eCommerce features are not available. You cannot sell digital or physical products using the websites built onWordPress.com
---
WordPress.org Pros
Flexibility is the major advantage of this platform. You own all the data of your site and you are in full control
You can run ads on your site, and no one can claim a share of the revenue
Users can add and remove plugins, and apps at any time they want
The website built and managed using WordPress.org is fully customizable
You can create membership sites and sell them in exchange for premium content
WordPress.org Cons
Although the platform offers free plans for beginners, you will still need a web hosting provider which comes with an additional charge
You will need to update and backup the site manually
---
Cost Comparison
In the case of WordPress.com, the basic plan is completely free with no hidden charges. However, the company displays ads on your free sites, and you are not allowed much control over it. The paid plans range from $4 to $45. There are four tiers of plans, namely: Personal, Premium, Business, and eCommerce.
As for WordPress.org, the solution itself is free but it involves some passive charges. Like all web-building solutions, you will need to add hosting to your site. However, entry-level hosting plans are rather affordable. And the total cost per year for WordPress.org is likely to turn out to be less than WordPress.com. Especially if you consider the value for money, WordPress.org offers better privileges at an entry-level price.
Setup
WordPress.com, being a hosted solution, is very easy to set up and use. All you have to do is visit their official website and begin building your own site. The setup process for WordPress.com is very simple. It walks you through a step-by-step process and you can configure a website with the click of a few buttons. It is only a matter of minutes before your website is live.
In contrast, the setup process for WordPress.org is not that simple. You do not even need to go directly to their website. Instead, you will need to begin your venture with a web hosting provider of your choice and later register for the WordPress.org service. Note that your experience with WordPress.org may vary based on the hosting provider you choose. We recommend you check out BlueHost or GoDaddy, they are among the leading web hosting providers for WordPress.org
So, if you ask which solution is easier to set up, there is no straightforward answer. Depending on your site's needs and purpose, you will have to choose one that converts to your requirements.
Customization Features
While both WordPress.com and WordPress.org share the same primary purpose, they have a huge difference in their mechanism.
WordPress.com comes with a handful of restrictions when it comes to customizing your site. The platform takes care of running and managing your site, which works in favor of beginners. However, you cannot alter the nitty-gritty of your WordPress.com website, even if you want to. You can only manage the features that the platform allows you to, the rest is off-limits.
In contrast, WordPress.org is an entirely open-source platform. So, you have full control of the customization details of your website. From logo to theme, you choose it all. Whether you decide to hire professionals to build your website or you do it yourself, the customization features on WordPress.org are always at your disposal. On WordPress.org, features are not limited.
Needless to say, the customization features put WordPress.org ahead in the WordPress.com vs WordPress.org comparison.
Domain Names
A domain name is your site's identity. If you own a self-hosted website, your domain name will appear to be independent and customized. This clearly indicates that no third-party platform is assisting you in the venture.
On the other hand, when you use a free domain name offered by WordPress, it will naturally come with an extension WordPress.com.
Number of Plugins
You can enhance your site's features by installing more plugins and apps. Plugins basically allow you to broaden your WordPress site's functionalities.
Users generally have a harder time installing plugins on WordPress.com sites. You can only do so if you are on a Business or eCommerce plan, costing you $25 and $45 per month, respectively. The advanced plans on WordPress.com allow you to access more than 50,000 plugins.
On the other hand, as you register for a WordPress.org plan, you will immediately get access to more than 50,000 plugins. Upon upgrading to premium plans, thousands of more plugins will be added to the list.
So naturally, WordPress.org seems like the better option as far as plugins are concerned. It comes with thousands of free and premium plugins.
Themes
WordPress.com will give you access to more than 150+ themes on even the most basic plans. The number goes over 200 once you upgrade to Premium or Business plans.
In comparison, the number of themes available on WordPress.org is way higher. You can choose from more than 7500 themes available in their official library.
So, you will find thousands upon thousands of themes on WordPress.org, which is not the case for WordPress.com. This puts WordPress.org ahead in the race.
Support
WordPress.com comes with no support for the free plan. But from a Personal plan and up, you can access their company support 24/7 via live chat or email.
As for WordPress.org, since you are not directly connected with the website, the company does not provide any official support system.
However, your WordPress web host will be more than happy to help you solve any issues regarding your site. All good hosts provide customer support 24/7 throughout the year, and it does not even cost you a dime.
How To Transfer wordpress.com to wordpress.org?
Step 1: Create a Self-Hosted WordPress Site

I'm not going to be walking you through the entire process of developing a self-hosted WordPress site since we already have a comprehensive article on how to build and maintain self-hosted WordPress. So, unless you require additional assistance, you should read that post.
Stage 2: Export Your WordPress.com Content

You must first extract your content material from WordPress.com before you can import this into your self-hosted site.
On the following screen, select All material and then click Download Export File: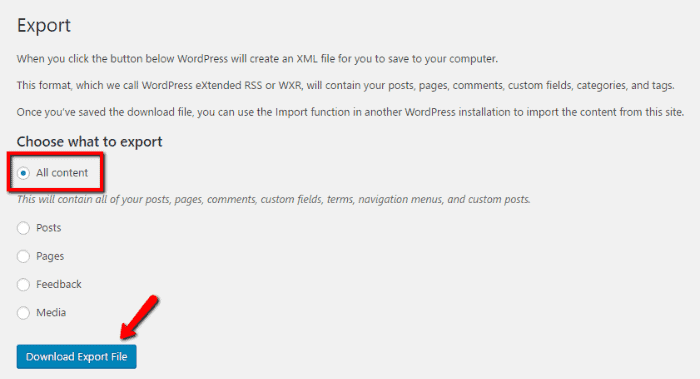 When you press that button, you must see an install begin for a document with the extension.xml. This document contains all the information for your WordPress.com account.
Stage 3: Transfer Your WordPress.com Content to Your Self-Hosted WordPress Installation

Next, navigate to your current self WordPress site's center console.
Then, under the WordPress choice, go to Equipment Import as well as install Presently: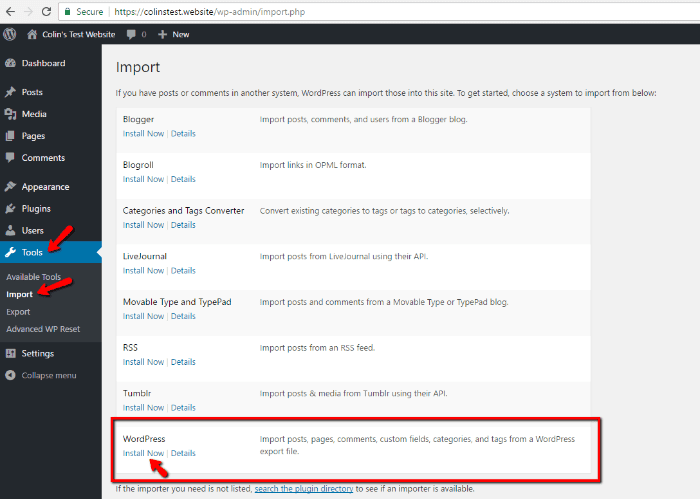 Stage 4: Check and Keep updating Your Inbound Links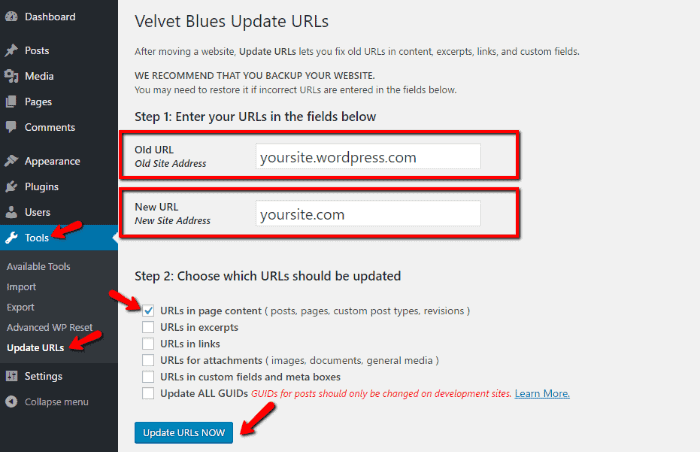 Whilst also your content has been started importing, you are not yet finished. There's always one problem. If you ever connected among your WordPress.com posts, some of these links (referred to as internal links) still will refer to your WordPress.com site, not yet your new self-hosted WordPress.com site.

End up making Your WordPress.com Site Private in Stage 5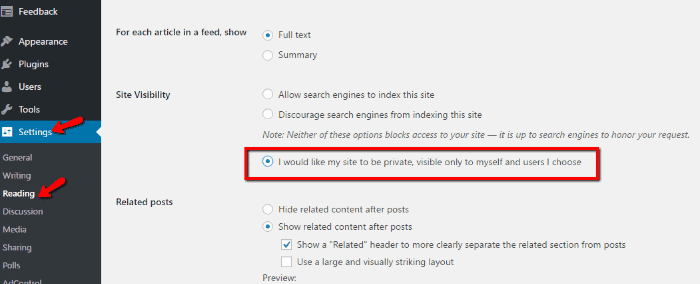 Since you're no longer utilizing your WordPress.com site, you should keep it private so that you will not have an ideal backup copy of your self-hosted WordPress site.
Then we knew WordPress com to WordPress org in the previous points.
Frequently Asked Questions (FAQs)
When to use WordPress.com?
WordPress.com comes with a handful of privileges. The solution allows you to run a site hassle-free. You do not have to break a sweat about designing your website, maintaining, updating, or even purchasing a web hosting provider. All of that is taken care of by WordPress.com. 
The platform offers a free plan, with strict restrictions though. It has a 3 GB limit on data use and comes with a subdomain that includes the extension WordPress.com. So, the paid plans are definitely better if you can stretch the budget. Moreover, the site-building solution does not allow you to install plug-ins or sell membership. 
If you are a beginner blogger or content creator who simply needs a space to share your ideas, and if website flexibility is not a concern for you, then you can opt for WordPress.com. However, if you are planning on scaling your business or monetizing your website, then WordPress.com might not be an ideal choice for you.
When to use WordPress.org? 
WordPress.org is an all-in-one solution for building websites. The platform requires you to set up the site with a web hosting provider. You can purchase a custom domain name and begin your venture with ease. There is no limit to customization features. You are in full control of your website. You can change themes and texts any time you want, which makes presenting unique business ideas much easier and more fun. Not only that, but you can also access visitor data, and leverage it to form marketing strategies. All in all, WordPress.org gives you access to every tool that you might need in order to engage your visitors. 
You can display ads and monetize your website. All in all, even if WordPress.org comes with a learning curve, the end result is often worth the effort.
Can you move from WordPress.com to WordPress.org? 
Beginners often confuse the two platforms and end up making a choice that needs amendment. Fortunately, you can switch from WordPress.com to WordPress.org, and vice versa. And you can do so rather easily. 
WordPress.org is often referred to as the real WordPress requirements. Its features are naturally more lucrative and draw in more users, even after they've signed up for a WordPress.com plan. 
You can begin by exporting your data from WordPress.com. Later, you will need to set up a self-hosted latest version of the WordPress site with the help of a web hosting provider. Importing your previous data will help you get started on the new WordPress.org platform. These points help us to discover how to switch from wordpress.com to wordpress.org
Which are better Google sites vs WordPress?
Google Sites – is a web platform that is easy to be used for all user enters. The scheme also offers a free hosting platform as well as easy-to-use web development surroundings. Its functionality is quite easy, and it works well for the advancement of straightforward websites for each and everyday usage.
WordPress is a well-known and strong Content Management Solution that performs well for both experienced as well as inexperienced web developers. What you should understand is that WordPress is not a solution. The system even now needs at least fundamental programming skills to achieve the desired effect. It provides additional assimilation choices as well as a robust set of features required to create websites that rank highly in search engines.
The distinction between web hosting as well as WordPress hosting would be that web hosting relates to a broad group of offerings, of that which WordPress hosting is just one example. The term web hosting refers to a wide range of web hosting plans, each with its own set of expenses and characteristics. WordPress hosting is a subset of web hosting designed for people who have WordPress-powered websites.
as, overall, less flexible.
Which is better comparing WordPress premium vs business?
The difference between WordPress premium and business is the quantity of personalization you desire. The WordPress Business hosting plan improves the features of your website in ratio to the layout customization provided by the WordPress Premium hosting solution.
Which is better WordPress personal vs premium?
Because the WordPress Strategy setup does not include numerous functionalities, there's not much to discuss in our WordPress personal review process. The plan includes only the most fundamental WordPress features. Jetpack Important components would be available to you.
This included spam safeguards, connecting directly to records of all websites, and automatic vehicle social media able to share.
WordPress Premium is a strategy developed for people wanting to make the most of WordPress development tools but just don't require a lot of storage or Search engine optimization
See also:
1- Blog vs Website: What Is the Difference and Which Best One Is for You?
2- WordPress vs Shopify Which Is Better for You?
3- Proudly Powered by WordPress and BuddyPress update
---
Conclusion
Both WordPress.com and WordPress.org have their pros and cons, as you can tell from this comparison article. Considering their features, offers, and price plans, we have put forth the key differences between WordPress.com and WordPress.org. We hope that now you have a better understanding of the two website building solutions and can choose one that fits the bill. With all that being said, here's to a successful website-building journey for you!