Can you build an app on WordPress? The answer may surprise you!
WordPress may be the best blogging platform in the world, but many people don't realize that WordPress can also be used to build full-blown websites and mobile apps with HTML5 capabilities. Of course, you might be wondering why you should use WordPress if you're going to use it to build something as complex as an app; after all, building something custom gives you complete control over its functionality and appearance, right? Well, yes…but it can also make things much more difficult and expensive than you might think.
Why start looking into having a Mobile App?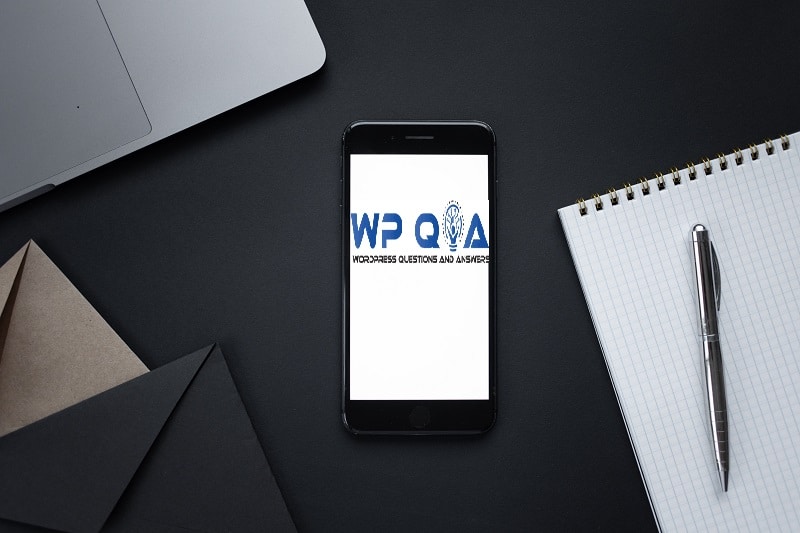 We are always looking for new ways to make our life easier and our work more efficient. So when we know that you could build an app on WordPress, Great news. After researching and discovering that there are a few different ways to do it. You can use a WordPress eCommerce plugin or a WordPress application development plugin. These plugins let you quickly create a WordPress site with the look and feel of an app. When someone visits your site, they'll be able to click around to find products and services as if they were using your mobile device.
We found that one way is to install WordPress Application Development Plugins such as WP Bakery or MobilePress Pro by Bold Creative Inc. These plugins let you quickly create a WordPress site with the look and feel of an app. When someone visits your site, they'll be able to click around to find products and services as if they were using their mobile device (phone).
Another option is WordPress Ecommerce Plugins such as WooCommerce Mobile by WooThemes Ltd.
Are there any plugins easy to use out there?
WordPress is known for its ease of use, but can the same be said for developing an app on the platform? Turns out, there are WordPress eCommerce app plugins available that make it easy to get started. Check out this list of some of the best WordPress application development plugins to get started. What do you think?
Appresser Build App WordPress plugin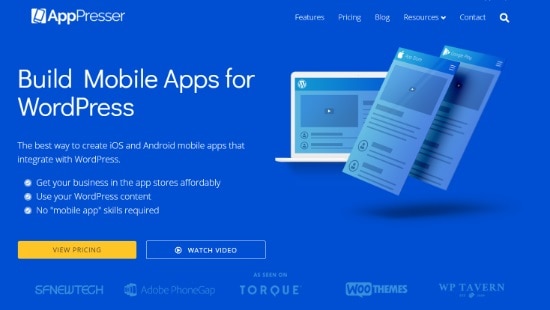 Using AppPresser, you can easily convert any WordPress website into a mobile app. You can create apps for your blog, WooCommerce store, or BuddyPress website using their dedicated WordPress mobile theme.
With its visual app customizer, you can easily change your app's appearance, just like with a WordPress theme. Adding custom pages, pulling WordPress content, and customizing colors are just some of the ways you can customize.
Integrated push notifications are easy to set up and manage with AppPresser.
Mobiloud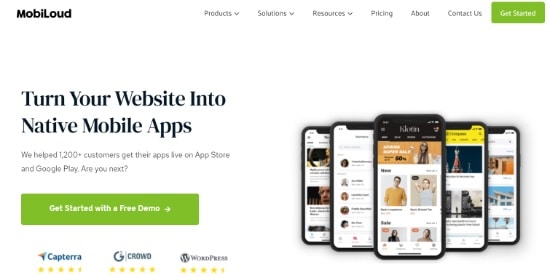 With MobiLoud, you can create mobile versions of your WordPress websites. There are two products available: one for news or blog sites, and one for websites using WooCommerce or other sophisticated plugins.
In addition to push notifications and mobile advertising support, it features analytics and custom branding. It can also be submitted to app stores for you after it is configured, prepared, and submitted.
AndroApp WordPress app builder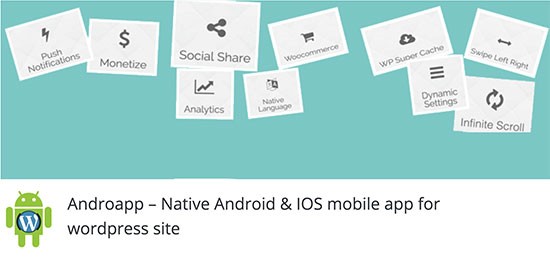 AndroApp is another useful plugin for turning your WordPress site into a mobile application. It includes offline support, multiple themes, internationalization, unlimited push notifications, infinite scrolling, and native social sharing. The plugin does not support WooCommerce or BuddyPress.
The developer will assist you in setting up and downloading your app, which you can then submit to the play store yourself or hire a plugin author to do it for you.
One of the major downsides of this plugin is that the developer can show their own advertising.
WpmobileApp wordpress application plugin

WPMobile App lets you use your WordPress website to make mobile apps. Build your app with a license that lasts for life. The WordPress admin area is where you can set up and configure all of your apps.
It makes it easy to upload your app's icons, buttons, colors, translations, and more. It works with all popular WordPress plugins and has built-in caching, offline content, and support for Google Analytics.
Besides that, the plugin has options for social sharing, unlimited push notifications, and more.
How do you publish an App when it's built?
You've built your WordPress eCommerce app and it's time to publish it. How do you go about doing that? First, you need to make sure that your app is compatible with the WordPress platform. Once you've done that, you can use a plugin like AppPresser to turn your app into a native app. Finally, once your app is built and compatible with WordPress, you can publish it through the App Store or Google Play. Your WordPress eCommerce app will work across different devices including smartphones, tablets, laptops, and desktops making it more accessible for everyone who visits your site.
Why WordPress will never become obsolete
WordPress is an open-source project, which means a community of developers constantly working to improve it.
WordPress is used by some of the biggest companies in the world, including Facebook, Twitter, and Google.
WordPress is extremely versatile and can be used for everything from simple websites to complex e-commerce platforms.
WordPress is easy to use and has many plugins and themes available.
WordPress is SEO friendly and can help your website rank higher in search engines.
WordPress is secure and regularly updated with security patches.
Overall, WordPress is a great platform that offers a lot of features and flexibility. With its updates, ease of use, and compatibility with other programs like Photoshop or Illustrator, it's very unlikely that WordPress will become obsolete anytime soon.
However, if you're not interested in developing your own site or managing all the content yourself (which takes time), then going with another platform might be better for you depending on what type of website you're trying to create.
What does the future hold for WordPress as a platform?
While WordPress started as a simple blogging platform, it has since evolved into a powerful content management system (CMS). And with the recent addition of the Rest API, WP has opened up a whole new world of possibilities for developers. So, can you build an app on WordPress? The answer is a resounding yes! In fact, there are already a number of popular apps that have been built on WP, including BuddyPress and WooCommerce. And with the help of some great plugins and themes, there's no limit to what you can create. So if you're looking for a robust platform to build your next app on, don't overlook WordPress! With all its features and flexibility, it's truly become a force to be reckoned with in the CMS market.
Conclusion
It turns out that you can't actually build an app on WordPress, at least, not in the traditional sense. However, there are ways to work around this and create a functional app using WordPress as a base. With a little creativity and some elbow grease, it is possible to create an app that meets your needs. Just be aware that it may take some extra effort to get there. A lot of people ask about how to make a business website for their company, but don't know how to proceed. There are so many options available today:
You could use Squarespace or Wix; Google Sites or Weebly; or even Facebook or Twitter pages if you want. But those websites have limitations that will make them difficult for someone who wants something more robust, like an eCommerce site with product catalogs and search functions (let alone a forum). That's where WordPress comes in handy: It's what we use here at WP Builds to power our own website, so we know all of its capabilities firsthand.
If you want to turn your WordPress site into an app, we suggest that you use either AppPresser or Mobiloud.