Jetpack WordPress plugin – Overview
WordPress Jetpack plugin is a powerful multi-purpose tool; it's one of the most popular and commonly used plugins; the plugin is automatically installed on your dashboard once you've installed WordPress; in this article, we will look at how it's used and whether it's worth your time. Why should you install it? What are its benefits? And what you should be aware of. ( Cons and Pros )
Jetpack offers security as well as performance and growth tools for WordPress websites. It provides everything you require to make your website more secure and speedier and to increase visitors. Alongside a wide range of toolkits, Jetpack also offers individual plugins that let you install only the features you'd prefer to use.
What is Jetpack for WordPress, and do I need it?
Jetpack gives security, speed, and growth tools for WordPress websites. Jetpack gives you everything you need to make your website more secure and efficient and increase visitors.
In addition to a wide range of applications, Jetpack also offers individual plugins that let you install only the features you'd like.
The Jetpack WordPress plugins are available for WordPress: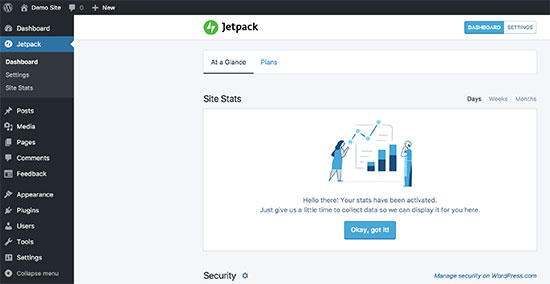 Jetpack plugin features
It comes with the following characteristics:
Beautiful Math: Use the LaTeX markup language to write complicated mathematical equations, formulas, and much more.
Protection against brute force attacks (former Protect): Protect your site from traditional and widely distributed attacks with brute force.
Block for Business Hours Allows you to display your company's hours of operation on your site.
Carousel Full-screen display of stunning photo browsing experience, complete with commenting and EXIF metadata.
Comments • Replace your default form for commenting with an upgraded system that integrates Social Media login choices.
Comment likes Allow users to comment on other blogs to show their approval or approval.
Contact Information Block lets you include your contact information (email address or physical address, telephone number) on any blog or page.
Contact Form (Classic Editor) Contact Form / Block for forms — Give your visitors the possibility to contact you without sharing your email address.
Custom CSS • Customize the look of your theme without the need to create an additional theme or worry about updates affecting your personalizations.
Custom Content Types add Custom post-types (CPTs) for your website.
Enhanced distribution allows your blog's content to be added to WordPress.com's WordPress.com "firehose" of public blog posts.
Additional Sidebar Widgets You can include additional widgets to your blogs, such as RSS Links, Twitter Timelines, and Facebook Like Boxes.
Gif Block It allows you to quickly search to embed animated GIF images taken from Giphy straight into your blog post or page on your WordPress website.
Gravatar Hovercards • Make your Gravatar profile visible to anyone who visits your blog.
Google Analytics -Monitor your WordPress website's performance with Google Analytics.
Infinite scroll — Brings the next post automatically onto the page when the Reader reaches the end of the page.
JSON API authorizes software and applications to secure links to blogs. It allows them to utilize your blog's content or provide you with new functions.
Lazy images make pages load quicker by loading only images already on the screen and other images when the user scrolls.
Likes allow readers to show their appreciation for your blog posts in a single click.
Map Block It allows you to add maps to any page or post on your website.
Markdown (Classic Editor) (Classic Editor) Markdown Block It allows you to create comments and posts with lists, links, and various styles with regular punctuation marks and characters. Markdown is used by authors and bloggers looking for the quickest and easiest method to create rich content without having to get their fingers off the keyboard.
The monitor — Alerts you via email if your site goes down.
Notifications You will receive notifications of new comments and likes in your admin bar and smartphone.
Pinterest Block allows you to add boards, profiles, and pins to your website.
The Plugin Manager lets you select which plugins are updated automatically.
Post via Email (HTML0)- Create posts with any email client.
Jetpack Social • Share new content on social media platforms regularly or schedule future shares using customized messages.
Payments -Include a button for payment specifically designed for recurring donations, using Stripe as the preferred payment processor.
Related Posts (Classic Editor) / Related Posts Block — Display related posts that your readers might be interested in reading once they've finished their present post.
Repetition Visitor Block Allows the developer to determine how visible its block(s) nested block(s) is concerning the number of times a user has visited the site.
Security Scanning Malware, antivirus, and threat identification for your WordPress website, with an automated resolution.
Search is a powerful alternative to WordPress built-in search powered by Elasticsearch within the WordPress.com cloud.
SEO tools Make your website more Google-friendly by using SEO Tools from us.
Sharing adds sharing buttons to blog posts to allow readers to share your blog posts easily.
Shortcode Embeds Embed YouTube videos, tweets from YouTube Twitter, tweets from Twitter, and various other media all over the internet.
Easy Payments Block Allows you to create a payment option for any page or post and instantly begin accepting PayPal payments for physical goods such as digital goods or donations.
Single Sign-on Utilize the credentials from your WordPress.com credentials to sign up for and sign in to self-hosted WordPress websites quickly and safely.
Site Accelerator helps pages load faster thanks to Jetpack's permitting to optimize your image and serve your images and static data (like CSS and JavaScript) via our worldwide server network.
Site Backups Automatically back up all of your websites.
Statistics for Sites — Check site visit statistics daily, in addition to most visited Pages and Posts.
Site verification Verify your website's compatibility with Google, Bing, and Pinterest and their tools.
Sitemaps Create a list of web pages crawling by search engines such as Google and Bing.
Slideshow Block allows you to add a slideshow image to an article or page.
Spam Filtering Automatically filters spam comments, reviews of products, comments on product pages, or even contact form submissions.
Star Rating Block allows any site's author to add reviews to their website.
Subscriptions (Classic Editor) or Subscription Block • Allow users to be notified of their most recent posts or comments.
Tiled Galleries (Classic Editor) The HTML0 Tiled Galleries Block (Classic Editor) Tiled Galleries Block — Show your gallery images in three different designs: a rectangular mosaic or a square mosaic and an arc grid.
Video hosting (Classic Editor) or Video Block Upload videos to ensure speedy and stable hosting through WordPress.com.
WP.me Shortlinks • Generate simple and short links to your site using your wp.me domain.
Widgets Visibility Set widgets so that they only show up on certain websites.
WordAds • Earn money by displaying high-quality advertisements on your website.
WordPress.com Toolbar – It is the WordPress.com Toolbar feature that replaces the default admin bar. It provides fast hyperlinks to all your sites, the Reader, as well as all your WordPress.com sites and your WordPress.com profile, and even notifications.
A variety of Jetpack features that are related to content are offered in blocks. For a complete list, visit the Jetpack Blocks page.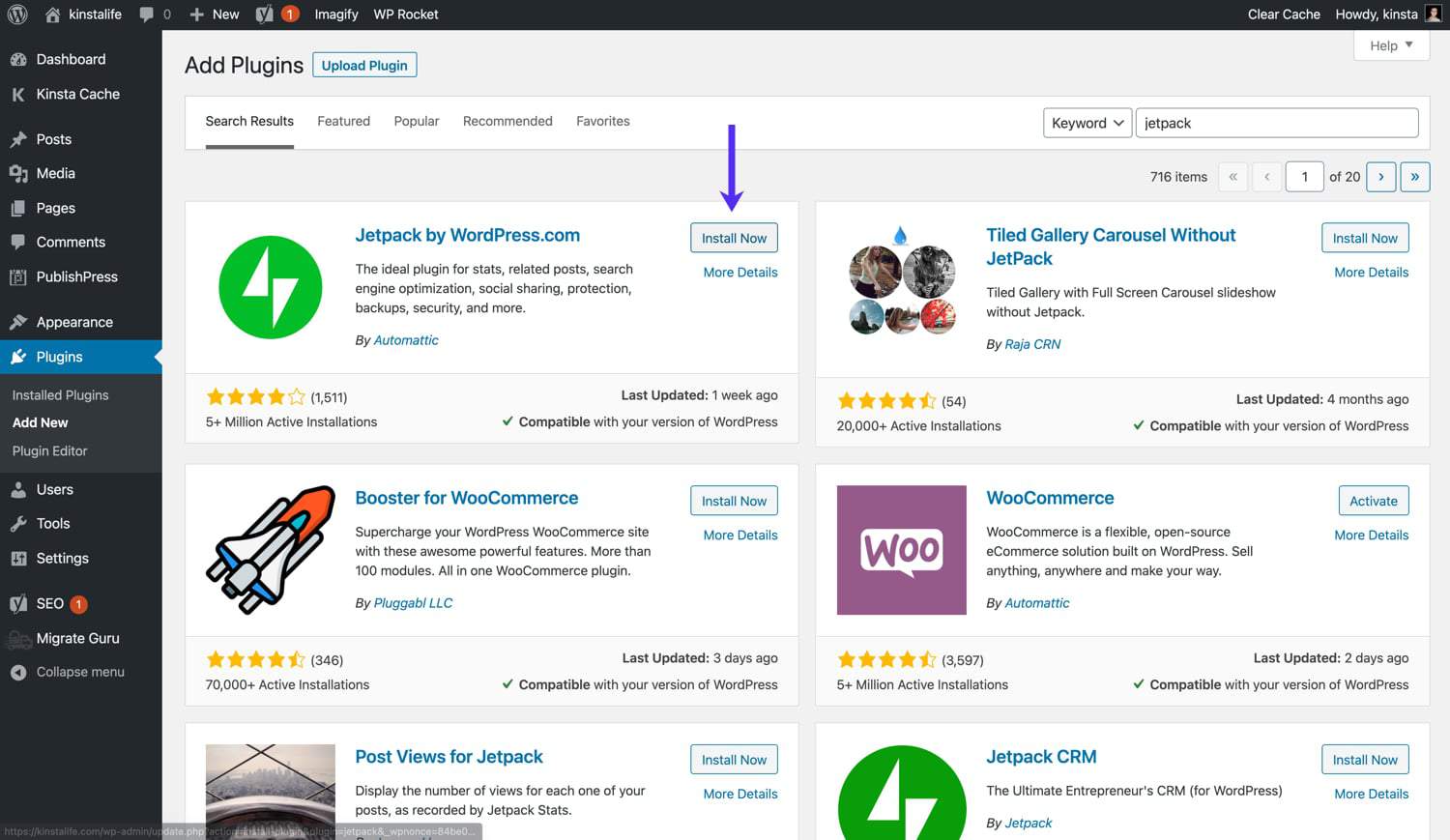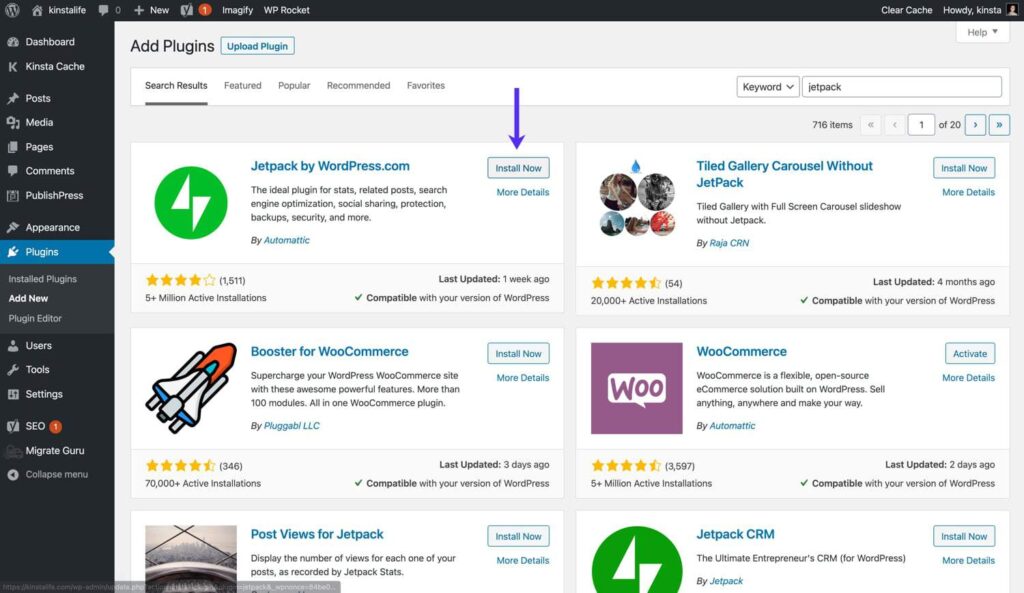 Jetpack Pros:
Let's examine the benefits of using Jetpack.
1. Add Essential Features Conveniently
WordPress includes all the tools for publishing in the default. But these tools built into WordPress do not suffice to manage a successful website. As your site grows, you'll have to search for and install additional WordPress extensions to increase the functionality of your WordPress website.
Suppose you want all the essential features you need within a single plugin, such as contact form, statistics security, design marketing, etc. In that case, Jetpack is the ideal solution for you.
2. Cost
The base Jetpack plugin is available for free. Premium features such as weekly backups, premium themes, and SEO features are included in one of three paid plans.
3. Frequent Updates
Jetpack is regularly updated and maintained. The team is constantly adding new and new features to the plugin.
Jetpack Cons
Some of the disadvantages of Jetpack are:
1. Bloated
The plugin comes with many features, which means that it appears to be bloated. The interface is full of submenus and toggles. As such, you'll most likely be unable to locate the module you're looking to enable or deactivate.
2. Slows Down Your Site
There's been a heated debate on Jetpack's performance. Jetpack and whether or not it will cause your website to slow down.
Although most users aren't having any problems with Jetpack, some users have complained that it slows their website down considerably. As it's powerful software, it's unlikely that you'll use every feature included in Jetpack. It's recommended to enable those features that you truly need.
3. Risk Profile
Jetpack requires that you connect your website with Your WordPress.com account. One advantage associated with this link is certain features will push content from your website back onto their servers. But, one disadvantage is that it also sends much information about your posts to WordPress.com. If you're worried about your privacy and do not want to share your site's details with any third party or third parties, Jetpack might not be the right choice for you.
How to connect Jetpack to WordPress?
1. Go to "Plugins > Add New."
Search for "Jetpack by WordPress.com." "Install" and "Activate" the plugin.
There should be a "Connect Jetpack to WordPress.com" screen. If not, click for "Jetpack" near the top of the left-hand sidebar.
On the next screen, you will see a screen that says the "Connect Jetpack to WordPress.com" button.
Then, you'll be transferred to WordPress.com. If you're not logged on to WordPress.com, you'll be asked to enter an account login and username. Enter the username and password. (As I was during the video, you'll bypass the next step if you're already signed in.)
Select the "Approve" button after it appears.
You'll likely be presented with the "Upgrade" screen to pick the pricing level you want to use. All of the standard Jetpack features are included in the "Free" tier. However, if you'd like Jetpack to perform tasks like backups and other things, you can opt for the paid tier. (If you choose one of these, you'll be required to make a payment.)
The next step is to make adjustments to Jetpack. You can choose to follow the recommended configuration or enable individual features individually.


Frequently Asked Questions
Is Jetpack for WordPress free?
Yes, the Jetpack plugin is free. Utilizing Jetpack requires you to sign up for an account on WordPress.com account. The Jetpack basic features are free. However, certain features need the purchase of a subscription. The Jetpack core is limited in its email capabilities. It is impossible to send emails to your subscribers unless you publish an article on your blog.
How much does Jetpack cost?
It is available for purchase on the Jetpack premium plan is $9 per month or $99 per year. Upgrades to this plan will improve the security of your website by incorporating malware scanning and automated security improvements. This plan also comes with the hosting of videos, Google Analytics integration, SEO tools, WordPress.com ad network support, and PayPal buttons.
Does Jetpack slow down WordPress?
Jetpack isn't slowing down your site. It's possible that you don't enjoy Jetpack. However, it's not a bandwidth drainer.
If you're looking for a plugin that can do lots of things in terms of functionality, it's pretty well-streamlined. When I added three different plugins we tested, we noticed a more significant rise in load times compared to Jetpack.
Does Jetpack provide everything you need?
No. It's a great all-purpose plugin. Other plugins can do their particular tasks better than Jetpack in many ways, which is likely the reason we noticed such a massive increase during the test. More features and more code mean more overhead (compared to Jetpack.)
Conclusion
No doubt, Jetpack is a great WordPress plugin; it has a bulk of functions that reduce using many plugins to do so, which increases the website speed. For bloggers, Akismet anti-spam is fantastic for stopping spam comments using bots.
But in our experience, Jetpack boost didn't work very well in optimizing the website page speed.
Overall, Jetpack is a WordPress Plugin worth using.