How To Redirect WordPress Page to Another URL? Error 404 is a common error that occurs when a user enters an incorrect URL or visits a page that no longer exists. This is not good for the user experience and can also affect the SEO ranking of your website.
In this article, we will show you the best free 404 redirect plugins for WordPress that you can use to fix 404 bugs. let's share four functional but simple redirect plugins. Let's explain how each one is different and how to set up a redirect with these plugins without having to use the .htaccess file on your site.
What are the different types of redirects?
There are several types of redirects. This is what everyone refers to, according to Search Engine People:
301 redirects:
301 redirects represent permanent redirects that inform search engines that the location of the page they intend to send to visitors has been changed. It passes almost 90 percent of evaluation power (link juice) to the redirected site.
302 redirect:
302 redirects are temporary redirects that inform search engines that a page location they intend to send visitors to is changed at the moment, but not forever.
303 redirect:
Some web pages store only one information (such as landing pages that act as payment forms). You can prevent these pages from being updated or saved. When you configure 303 redirects, you can tell the server to tell visitors that if they submitted the form, they need to visit this URL and change the way they do it. This is a temporary redirect that ensures that the page that stores the data cannot be updated or marked as favorites.
307 redirect:
Very similar to the previous one.
308 redirect:
A 307 with permanent status.
The best WordPress redirects plugin in 2021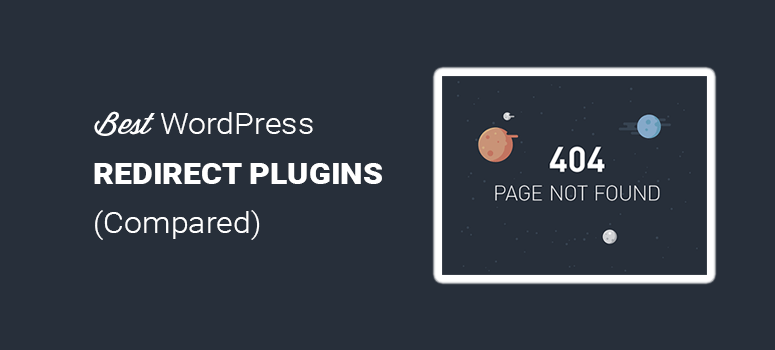 These are the best redirect plugins out there, at least in 2020. Finding a suitable WordPress redirect plugin is not so difficult. All you need to do is find out the reason for installing the plugin.
No matter what method is used to configure a WordPress redirect. The crucial thing is that you are redirecting obsolete or broken web pages when moving domains, editing your CMS, or updating your site.
If you do not redirect these old URLs to new ones that now exist in search engines, all these hard-earned links to your site will disappear, and you will have to start from scratch when it comes to search engine optimization.
SeedProd
SeedProd is the best landing page builder for WordPress. It offers a drag-and-drop page builder and helps create all kinds of landing pages. Among its many features, SeedProd allows you to create 404 custom pages. It comes with beautiful 404 error page templates that you can use as a starting point.
It connects to all popular email marketing services and allows you to convert lost traffic into email subscribers. The plugin also offers the ability to activate 301 redirects for your 404 page.
When you create a 404 page, simply enable redirect mode from settings and enter the URL to which you want to redirect your audience. You can add anything you want to your 404 page template.
For example, you can add different blocks for images, videos, buttons, titles, enter a countdown timer, a subscription form, and much more. A huge advantage of using SeedProd is that it is not based on your WordPress theme, which means you can use any layout you want to create an impressive 404 page.
Easy HTTPS Redirection
Having HTTP and HTTPS versions of your site is bad for SEO because it creates duplicate content. If you have an SSL certificate, this plugin helps you fix it. Easy HTTPS redirection will apply all HTTP requests to the HTTPS version of your site.
You can even select the specific URLs that you want to keep without affecting them. Your plugin makes changes to the.htaccess file of your site. Therefore, it is essential to check the HTTPS version of your URL before you start.
When you install this plugin, a message will appear in the control panel regarding errors due to caching plugins.
It is highly recommended to install cache plugins before redirecting; once you are sure of both of these problems, you just have to check the box. Easy HTTPS redirection will also allow you to perform a selective HTTP to HTTPS redirect using the Apply HTTPS Redirection in feature.
Redirect
Redirect is a powerful WordPress plugin that allows you to easily configure redirects for your 404 pages. It comes with a built-in option to track 404 bugs that have occurred on your website since you installed the plugin.
Redirection allows you to use powerful regular expressions to match URL patterns and redirect them to the appropriate pages. This is very useful if you have moved a site with a different URL structure from WordPress.
We have written a comprehensive guide on how to explore 404 pages and redirect them to WordPress using the redirect plugin.
Although this plugin is great, the only thing you want to pay attention to is 404 registry settings. If you do not configure it correctly, then this plugin can make your database very heavy. Other than that, it's a great plugin to have and it's 100% free.
SEO Redirect
SEO Redirect Plugin is an easy to use plugin to track 404 bugs and manage your redirects. It comes with a simple interface to add and manage your redirects.
The plugin allows you to configure 301, 302 and 307 redirects for a WordPress publication, correct analysis errors in Google Search Console, and now supports WPML (Multilingual WordPress) integration.
It also keeps a record of 404 errors on your WordPress site, so you can fix these bugs. The plugin creates a new table in your WordPress database to store your redirects.
It also keeps the history of all redirects on your website as well as the date of last access. Displays a detailed report of the number of times a redirect occurred, its last date, where they found your URL, and who tried to do so.
Custom 404 Pro
Custom 404 Pro is a minimalist WordPress plugin that is very easy to use and is 100% free. It allows you to configure 404 redirects quickly and in just a few clicks. You can redirect your pages to an existing page or to a specific URL.
In addition, the plugin supports 301, 302, 307 and 308 redirects. Another advantage of using Custom 404 Pro is that it logs your 404 errors and even sends an email to the site administrator when you record an error. This is a valuable feature that helps you fix faulty links on your site.
301 Redirects
301 Redirects is another popular WordPress redirect plugin. Its user-friendly interface makes it very easy to configure and manage 301, 302 and 307 redirects on WordPress.
The plugin makes sure that your website is always SEO friendly and users get a great experience redirecting them from a 404 error page to any page of their choice. 301 Redirects offers several options for selecting a redirect location.
You can send your visitors to a publication, page, media, or custom URL. Additionally, 301 Redirects allows you to import and export redirect rules.
This allows you to easily migrate from another plugin to 301 Redirects. Although the plugin is easy to use, it still does not record 404 errors. You will see a tab for 404 error log in the plugin, but it will display a message saying soon.
See also:
How to Changing WordPress URL?
Best WordPress Survey Plugins? (Best 3 Plugins)
WordPress Simplepie Plugin
---
conclusion
404 error is a common problem that many WordPress site owners face and we believe that SeedProd is the best 404 redirect plugin you can choose from. Its drag and drop landing page builder allows you to create 404 awesome pages for your website and easily redirect them to a new location.
The plugin offers the most customization features compared to other redirect plugins. In addition, it integrates with email marketing services and allows you to increase your email list rather than lose traffic to the website.
On the other hand, if you want a free plugin that easily configures redirects and follows the 404 error, then we recommend redirecting.