The best 8 WordPress theme creator software
How would you describe WordPress Theme Creator software? Is it a tool that helps you build themes from scratch or does it allow you to customize existing ones? If you've never heard of it before, let us explain.
WordPress is a free open source CMS (content management system) that allows you to create websites without having to write code. Themes are created using drag-and-drop page builder tools. They are pre-built templates that you can modify to suit your brand and style.
With the WordPress theme builder plugin, you can easily design beautiful WordPress themes from scratch. You don't even need to know HTML or CSS coding to start creating stunning designs. In addition to its intuitive interface, WPTC has a variety of features that make the process easier.
1. Ultimatum WordPress website builder
Ultimatum is a paid tool that lets you design a unique look for your WordPress theme builder. It has a drag-and-drop layout builder that lets you add headers, footers, and menus to make your own unique theme templates. You can design your layout with more than 600 Google fonts that come with this WordPress site theme generator. Also, you can give your site more features by using custom shortcodes.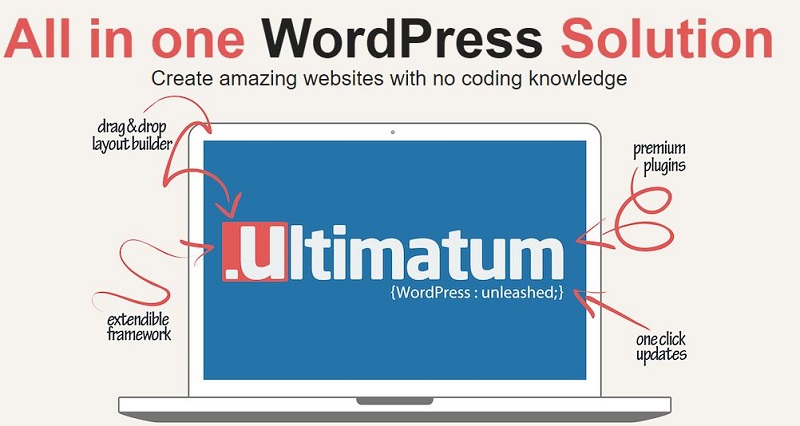 2. TemplateToaster WordPress plugin
With this theme WordPress theme builder plugin, you can make simple but powerful WordPress websites templates without having to do a lot of complicated coding. TemplateToaster has a modern interface that lets you edit content sections, add images, and make tables by dragging and dropping them. Plus, it's a desktop tool, so you can make your website on your computer without being connected to the internet.
TemplateToaster is one of the best WordPress theme builders to make your own WordPress website.
3. Headway WordPress page builder plugin
You don't have to choose a theme that is dull. Instead, you can make unique website designs with Headway WordPress editor, a drag-and-drop WordPress layout builder, with theme building functionality. It has a visual editor that lets you build anything from a simple blog page to an online store. You can also use Headway's Grid to put different parts of your website in certain places.
Headway Themes has the best WordPress theme builder tools for making your own WordPress theme.
4. Themes generator
The Themes Generator gives you a visual editor with drag-and-drop blocks that you can use to make beautiful website designs. There are images, videos, maps, page layouts, search page builders, and social icons already built into these blocks. You can also make your own theme or change the ones that are already there. You can find answers to your questions in the Theme Generator Academy, which has support videos, courses, and tutorials.
The Themes Generator gives you the best theme builders to make popular WordPress themes.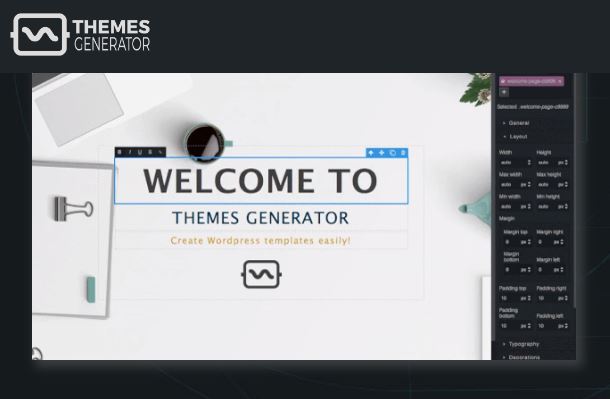 5. WordPress theme generator
This theme builder lets you make your own theme and make it your own with complete control. The navigation bars, posts, and sidebars on your site can be designed in a number of ways with WordPress Theme Generator. Also, the fonts and color palettes have been tweaked to fit your brand and the latest trends in website design.
6. PageLines
You can make a custom website or pre-made templates in less than five minutes with PageLines. This theme generator is an all-in-one platform that lets you add image sections, social logins, and online shops without having to install multiple plugins. Using the drag-and-drop builder, it's also easy to make a unique layout with fonts and colors that you choose.
7. Make
Make is a free, open-source theme generator for making the best WordPress sites possible. This tool has an easy-to-use interface that lets you add full-width banners, organize your content into columns, and highlight your most recent blog posts. You have full control over every part of your site, with large theme-building features including how far apart the lines are and how big the fonts are.
8. iThemes Builder
With iThemes Builder, you can make your own layouts for WordPress sites quickly. With its layout editor, you can add headers, images, navigation, content areas, widget bars, and other modules. You can also make the theme match your brand's colors without having to change any code.

Conclusion
People like to buy from brands they know are real, and a unique website can help your business stand out from the rest. Instead of paying a web designer a lot of money, you can use WordPress theme builders to make a custom theme or create templates for your site. These tools offer visual editors, a variety of fonts, and multiple customer support options. Try one of these suggested WordPress theme builders to save money when making a WordPress website.