We will discover Best WordPress Plugins through this report in detail from the WordPress A and Q blog.
WordPress site owners often seem to struggle with installing the right plugins on their websites. With over 50,000 plugins available in the WordPress directory, it's easy to see where they might have trouble. We have researched some of the best ones and narrowed down the ten best WordPress plugins for 2020. Check them out!
---
What are WordPress plugins?
WordPress plugins are software that allows you to expand your website's features and functionalities. You can install your plugins on WordPress.org and customize your website. As a result, presenting unique ideas becomes much more flexible and fun. Plugins help you to engage a broader visitor base and convert them into customers.
Free vs. Paid WordPress Plugins
There are thousands of free plugins available in WordPress that can serve you perfectly well. However, if you want better quality, you'll find many paid and premium plugins on the WordPress directory.
In fact, paid plugins offer customer support and developers that can help you manage the plugins and update them from time to time. They will take care of the compatibility and security of your plugin.
Plugins may often face compatibility issues with other plugins or themes. With paid plugins, you will also get access to dedicated help to aid you to resolve any issue.
You will find all the free plugins in the WordPress repository. And the list only keeps growing every day. People write and share these plugins, and even you could do it. Many do it for fun; to help others, or to gain popularity.
Free plugins can help you enhance the site's features. In fact, some of the most popular plugins are free. Examples, are Google Analytics, WordPress SEO, Contact Form 7, and many more. However, a drawback of free plugins is that they don't come with additional support. You are going to learn your way around operating them.
If you join the WordPress community thinking that everything of value should be free, you'll soon realize that it's not entirely viable. At least not in the case of plugins. Paying for some plugins can potentially make your site more reliable and secure for visitors. They also save you from the hassle of constant monitoring. You can get a plugin for something between $30 to $100.
There's also something in between – freemium plugins. This software is available in both free and premium versions. You can start with a free plugin, and as your website begins to scale, you can simply upgrade to a premium plan. The free version will, of course, limit the features.
Why are plugins so important?
Basically, plugins are the building blocks of your website. They help you upgrade your site's functionalities. Whether you want to improve your site's SEO, develop an online store, add contact forms, or enhance speed – there is a plugin for everything. Plugins are PHP scripts that expand your site's functions. Here are some of the best WordPress plugins.
---
10 Best WordPress Plugins
10. TrustPulse
Is direct marketing your thing? Trustpulse may make an ideal choice for you then. It is a notification app that helps your site improve reliability by leveraging social proof benefits.  
Visitors may not return to your website if it doesn't look trustworthy enough. Trustpulse realizes the issue and actively works on making your website look more presentable. It offers real-time social proof of your website. You can let visitors know what your customers say and think about your service. You can even display information on a recent sale or event. It lets you control what you display, when and to whom.
Moreover, the WordPress plugin comes with a beautiful and easy-to-use interface. You can increase conversion rates and sales without much hassle. In short, Trust Pulse is an excellent way to improve business credibility.
9. WP Rocket
This caching WordPress plugin will help you enhance your site's speed. Wprocket, is very easy to install and gets straight down to business. Configure it in just a few minutes, and you are good to go. Page caching will be activated right away. 
And the best part is that you don't need any technical skills to operate it. The plugin automatically turns on the page cache, gzip compression, and cache pre-loading. Wprocket free will not wait around for you to request a cache. It will take matters into its hands and instantly boost your page performance. Moreover, the plugin types come with Imagify. It is an image optimizer that helps you further boost the speed, and prevent wp rocket-lazy load.
As you can tell, it is straightforward to run, which makes it one of the most beginner-friendly plugins on the market. While there is no wp rocket free versions available for this plugin, it offers excellent value for money.
8. Smash Balloon
Smash Balloon is a WordPress down social media feed plugin. You can display your social media posts on your essential website using this tool, and it takes less than 30 seconds to configure. 
There are four different social feed features, including smash balloon Instagram feed, Custom Facebook Feed, YouTube Feed, and Custom Twitter Feed. In order to activate the integration, all you have to do is authorize the plugin and add the provided shortcode anywhere. And your social media content will be displayed on your website in no time. Marketing campaigns have become much more comfortable as a result. Through sharing content, your visitors are most likely to engage with you across platforms and convert.
7. Constant Contact
For small businesses that have simple email marketing needs, constant contact is an attractive solution. Their offerings are easy to learn and operate with constant contact. It is a paid plugin that starts at $20 per month and offers excellent value for money. There is a 60-day free trial in case you're not impressed. 
While it is primarily an email marketing solution, its features expand way beyond that. The WordPress plugin offers a wide array of marketing automation services, segmentation, personalization, and integration. The library holds over 160 templates to help you build stunning emails, broadcasts, and newsletters. You should note that the templates don't offer much flexibility. Therefore, it will be an ideal choice if your business is still growing and does not need high-end features.
6. Monster Insight
Analytics is one of the most essential yet challenging monster insights of web management. If you cannot work out how your website is doing and how your audiences are responding, you'll have a much harder time preparing content that converts. 
Without the monster, insights of google analytics 4, the surge of information may overwhelm beginners. Monster Insight is committed to deriving analytics that are easier to understand. Even if you're not an analytics expert, you can understand and figure out a way to make use of the data. And that's the primary purpose of Monster Insight. 
The plugin will help you understand what content is well received by your audience, track conversion, and sales milestones, and optimize your sites.
5. Sucuri
Security is among the top priorities for any website owner. If not, you should soon bring it higher on your priority list. Installing Sucuri on your website can help you build more robust security for yourself, visitors, and customers alike. Sucuri comes with a security plugin along with a web application firewall, which is perhaps the best protection you can seal your website with.
If you don't have a firewall on your WordPress website, you better get one as soon as possible. Sucuri WordPress plugin will monitor your site and protect it from malware threats, XSS attacks, DDoS, and more.
Moreover, it offers an antivirus package for your website and runs it every four hours in order to ensure maximum protection. Vulnerabilities are detected and taken care of without you having to sweat over them. 
Sucuri keeps track of all activities on your website, including last login, login attempts, file changes, and more, so that you can detect any irregularities.
Sucuri pricing
Web analytic software provides small and medium businesses with website security through continuous monitoring, incident handling, as well as safeguards against external attacks. Sucuri Website Security costs $199.99 per consumer per year. There is no free version available. Sucuri Website Security does not provide a free trial period.
4. Yoast SEO
If you're committed to ranking your website and optimizing it, then Yoast is the best WordPress plugin you can install. It can take your SEO editing to the next level. 
Yoast SEO plugin helps you with real-time site analysis so that you have a visual insight into how your posts are doing. It also allows you to optimize the blogs, images, meta descriptions, titles, and keywords. Yoast edit SEO will let you know if you're using passive voice too much or not using the keywords enough. The plugin will also help you generate URLs for your page automatically. These are just the features available in the free version. You can expect more advanced features in the premium version. All in all, you will have sufficient control over the details of your WordPress website.
yoast meta robots advanced
Yoast SEO's Enhanced tab allows you to control how Google searches crawl as well as index your post or page. In this essay, we'll go over the settings option for meta robots.
Yoast redirection
The Yoast meta description template redirect manager is designed to detect an original posting as well as suggest that you generate a redirect. We'll generate a redirect for you when you change the URL of a post. Users and search engines will be smoothly transferred from the old URL to the fresh one as a result.
3. OptinMonster
What is Optinmonster?
One of the most powerful lead generation plugins globally, OptinMonster is a highly functional solution that comes with previously built templates and stunning themes. You can choose from them to build an exciting marketing campaign for your website.
Optinmonster review
Grabbing visitors and generating leads becomes much easier when you have the right plugin. With Optin Master's powerful segmentation engine and targeting tool, you can engage with every individual visitor on a personal level. The tool allows you to target them based on their interest, referral source, geographic location, and more.
This WordPress plugin's key features include onsite retargeting, exit-intent technology, cookie retargeting, and more. Moreover, you can integrate essential marketing automation tools to enhance your site's efficiency further.
Optinmonster pricing
Straightforward: $19/month (paid a monthly) or $9/month (paid annually)
Extra: $29/month (paid every month) or $19/month (paid annually)
Pro: $39/month (paid every month) or $29/month (paid annually)
2. SeedProd
A maintenance mode WordPress plugin, SeedProd, is one of the most popular plugins available in the directory. Whether you are waiting to go live, your webpage is facing trouble, or are under maintenance, you need a "Coming Soon" page. SeedProd can help you with just that.
 Seedprod review
The plugin offers a quick and easy way to put up a Seedprod coming soon page. It can even help you grow your leads list. There are countdown timers in attractive designs, unique page templates, and whatnot. 
Besides a stunning Coming Soon mode, you will find maintenance mode, a Real-time editor, a countdown timer, a progress bar, and seamless integrations.
You can edit your page using its intuitive interface without having to switch back and forth between editing mode and preview mode.
The plugin is available in a free version. As your website continues to grow, you can upgrade to a paid version. Then we knew seedprod reviews.
1. WPForms
Your website needs a contact form to convert visitors into leads. Contact forms allow you to get in touch with visitors and further engage with them. WPForms can help you with just that. The WordPress plugin was developed as a powerful tool that can help everyone, from absolute beginners to professional web developers.
You can also collect payments using the forms. WPFroms will allow you to collect digital payments for downloads or memberships. There is PayPal or Stripe integration available on the plugin. 
Wp forms review
Using the drag and drop feature, creating a form feels like a walk in the park. On top of that, the forms created by WPForms are SEO-friendly and fast. Not just forms, but there are dozens of other integrations that your website can benefit from, including email marketing integration, Zapier, Custom captcha, and so much more.
There is a free version available for the plugin. The plan is the WPForms plugin. However, if you are planning on growing your business, we'd suggest you go for the Pro plan as it comes with way more features. After these points, we knew wp forms reviews
Wpforms Mailchimp
To implement the Mailchimp Addon in WPForms, initially navigate to WPForms in your WordPress admin and afterward press enter Addons. When you press Addons, this would display all of the available Addons for WPForms. Here, use the search function to look for Mailchimp.
wpforms popup
WPForms makes it possible to create and incorporate forms in WordPress posts and pages. This guidance would then walk you through the process of displaying forms in a lightbox, popup, or mode shape. To proceed, make sure you have MailOptin managed to install on your WordPress. Open WPForms and make copies of the shortcode of the form you want to show in a popup.
wpforms pricing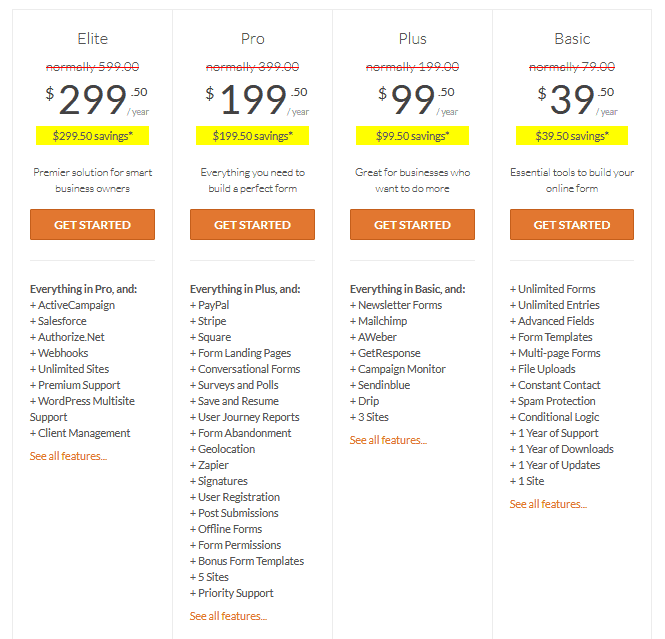 See also:
1- 8 Best WordPress Survey Plugins
2- The Best Plugin To Backup WordPress
3- Best WordPress Survey Plugins? (Best 3 Plugins)
---
Conclusion
Depending on your business size, you may need to add one or multiple plugins to your website. We have assembled some of the most efficient WordPress plugins that can help your website expand and scale better. Each of them has a different set of features that you can benefit from. We hope that our article will help you make an informed decision as to what your website may need.