8 Best WordPress Survey Plugins
WordPress Survey Plugins are the new way to collect data through websites. Sure, you can add a contact form, ask your visitors to leave their email addresses, or create polls to gather information, but if you consider adding a survey, it increases visitor involvement because they can really explore their true desires and tell you more about themselves that could be very critical for business development. This makes the whole process a lot more fun, and engaging, and makes the participation process a lot more interesting.
Why use WP Survey Plugins?
The aesthetics of a survey is as important as the aesthetics of your website. It has to look interesting and professional enough to get the most visitors' responses and a survey plugin does just that. Such plugins are easy to use, maintain, and track. Moreover, these plugins will report to you in real time based on customer responses. Such plugins also have the option to store and export data, so that you can put it on a spreadsheet or a CRM tool.
On the other hand, you also have to understand how the survey results need to be shared. If you choose to showcase the results on your webpage, there are plugins that allow you to embed the results on your website in an aesthetic format.
So, let's take a look at a few examples to get your website fueled.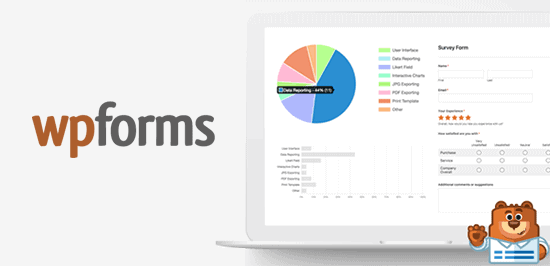 Let's start off with the best WordPress plugin for surveys in the market today. WPForums has a power survey engine and a polls add-on that lets you create high-quality survey forms. In addition to that, you can also add polls and survey add-ons with some of the other notable features of WPForums, such as multi-page forms, custom notifications, conditional logic, and email integration.
Aside from all of this, WPForums allows you to add a form field to all of your surveys with just one click that also includes a text field, radio buttons, checkboxes, a Likert scale, ratings, NPS score field, etc.
The feature that makes WPForums so unique is that this survey comes with a reporting segment too. WPForums know what you need from a survey, so it works to create a beautiful and detailed report with all the charts and graphs you need to decipher information collected from the surveys.
With that being said, you also have the ability to post the results to any WordPress webpage so that users can view them at their convenience. This also means that the plugin lets you engage in survey forms for all of your surveys.
Finally, the beautiful results it generates make it social media-worthy. You can share these results on any social platform and with its beautiful graphical representation and images, you will surely grab a lot of attention to driving traffic to your website, by just using a WordPress survey plugin.
In addition to that, the recent development with WPForums is the conversation forms mode which increases the chances of form completion as the form interacts with visitors with a human-like feel.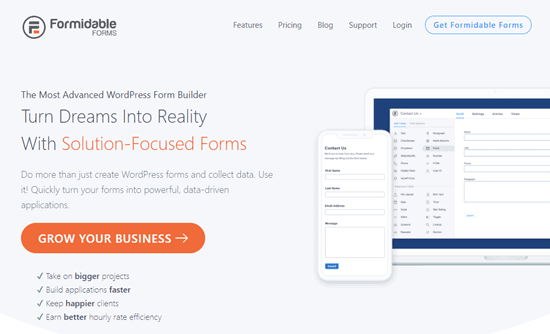 This is a robust WordPress plugin that offers state-of-the-art poll and survey functionalities.
The form builder lets you fabricate any form of survey modules with contemporary field types that you would expect from the last plugins. Formidable Forms are used by more than 300,000 users and counting. This is their preferred source for building survey forms. In addition to that, you can also work with quirky features, such as quizzes and calculators to name a few.
What's also included:
Easy customization: 124+ hooks and personalized HTML options.
Easy installation process: Installation needs just a single click.
Dynamic Field options: Easy populating of fields with user meta, and saved entries.
A plethora of templates: The package includes WooCommerce forms, payment forms, and a calculator.
Repeater Fields: It's easy to collect multiple sets of data such as work history, team registration, and events.
Visual Styler: Visual forms can be made to look amazing with the embedded styling options and it is very user-friendly.
View Integration: Entries can be transformed into directories, listings, and calendars with powerful content generators.
Drag and Drop feature: Some forms are complicated to build; therefore, the drag and drop feature makes it a tab bit easier.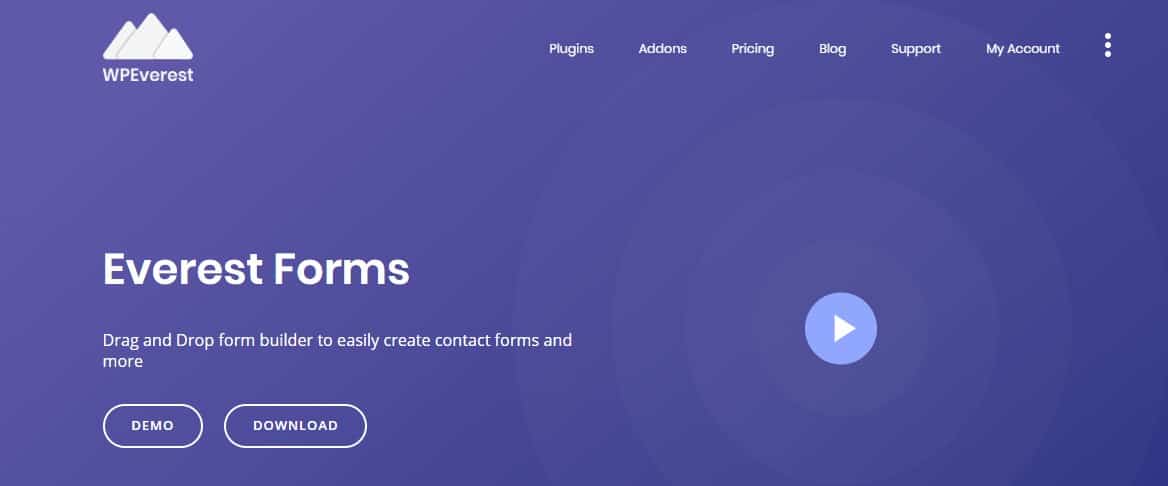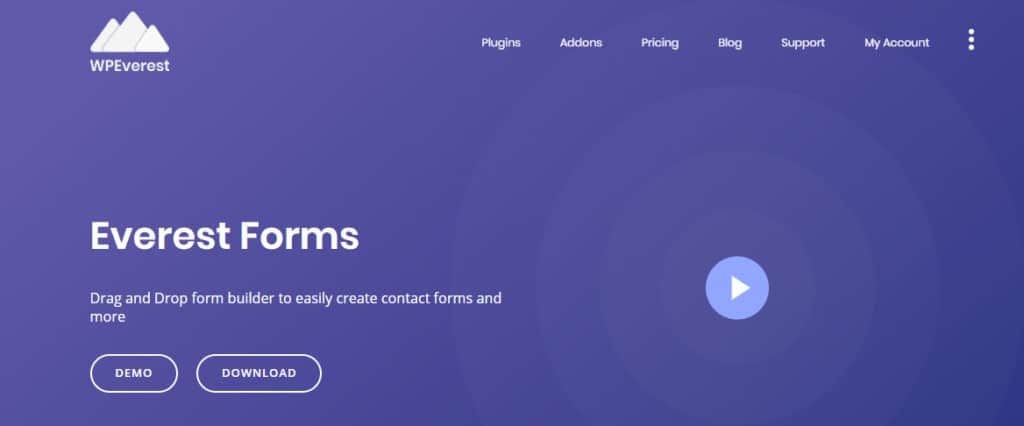 The Everest Forms are in parity with most of the WordPress survey plugins available in the market today. Aside from that, the premium version of this plugin has a Quiz and Survey Poll add-on which can be added to your WordPress site in just a few clicks.
The premium version also allows you to customize your survey forms as per your specification in terms of data collection, graphical reports, and visual representation.
Key Features:
Can fit into smaller screen real-estate
Has an embedded drag-and-drop feature for form building
Survey Fields: Rating, Scale rating, and Likert Scale
Terms of condition for every field
Graphical representation of reports
Dropdown, checkbox, and radio for the survey fields
The Premium version of the Everest form comes at a hefty price tag, but every penny is worth it. You can look into demonstrations to really comprehend its potential before you make an investment.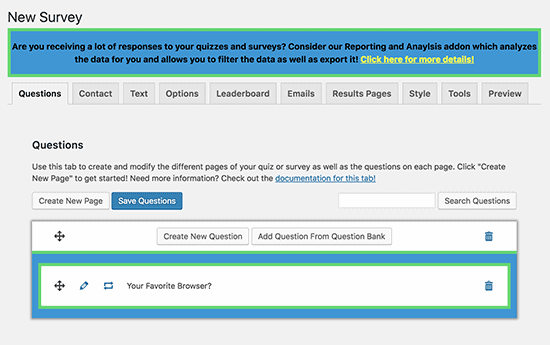 It is already apparent that this WordPress survey plugin assists you with surveys and quizzes for the data collection on your WordPress website. It does not necessarily have the easiest-to-use user interface, but it is well-recommended and comes with loads of useful quirks and features.
The free version of the plugin will help you with survey development with all the critical form fields with the capability to make a survey of more than one page. You can integrate answers, scoring, and leaderboards along with the quizzes you put up on your webpage. Furthermore, the plugin will also send emails to your respective visitors after they have completed a survey with a thank you note and a link to redirect your visitors to your WordPress site.
On the other hand, the paid version gives you a detailed analysis and report of what has been collected. This is a perfect tool to make state-of-the-art survey forms that will truly drive more traffic and increase the involvement of the visitors when they visit your webpage. Forms, trivia quizzes, satisfaction surveys, employee surveys, viral quizzes, etc.; the possibilities are endless.
This is the perfect tool to make market research a breeze as the aesthetics are equally customizable in terms of texts, types of questions, personalized results of scores, and a countdown timer too.
Some of the other features include:
Hints from Q/As
Lets the user post results on social media platforms
Login requirements
Timed questionnaires
Scheduled surveys and quizzes
The features are endless. You just have to use this comprehensive plugin to actually harness the capabilities to their maximum potential. It's all you need under the hood.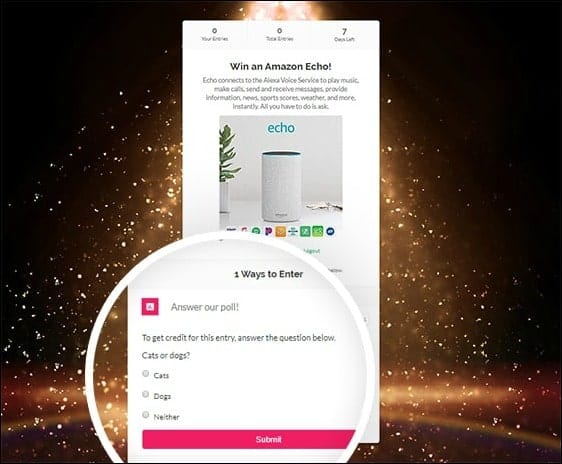 The Raffle Press WordPress survey plugin is more than an outstanding giveaway plugin. It facilitates a hosted giveaway on your WordPress webpage aside from being really easy to use. Conducting a range of surveys in the most effective manner can really help you enhance your online growth.
The Raffle Press plugin helps you do just that with the following features:
Data Visual: The plugin generates easy-to-understand reports.
User-friendly: People do not need any special skills to work with Raffle Press. Anyone can use this plugin for both the Polls and Survey functions, as well as for the giveaway feature.
Email-Marketing: It connects to a bunch of email-marketing services to help amplify your mailing list and therefore, helps you get more subscribers.
Engagement: The plugin can be paired with polls that encourage a lot of engagement in your WordPress site. This is possible by giving visitors a few extra entries when the visitors complete a poll or survey.


This is a neat way to create polls on your WordPress website. This is a completely free and easy-to-understand plugin if you need something simple to help your visitors participate. It may not have groundbreaking features compared to the rest of the plugins mentioned above, but it will get the job done with no hassle at all.
Some of the key features include:
Checkboxes: Easily accessible checkboxes for the users to select on a poll.
Data Storage: It will log and save user responses and give you a detailed list of votes from registered users. If a user is not registered, votes that are duplicates can be easily filtered out by auto-detection of IP addresses.
Radio Buttons: Users have access to circular buttons on the polls you have posted.
Simplicity: This is easy to use and a direct solution without over-the-top features. This will easily suit many business requirements without much fuss.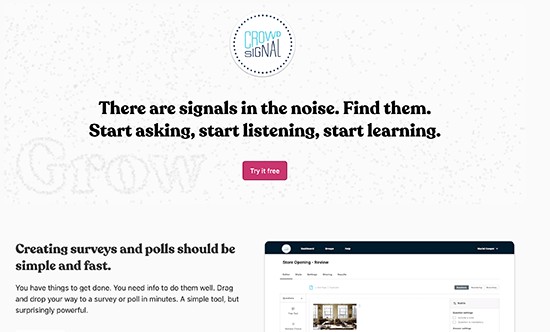 Formerly known as Polldaddy, this is quite a renowned WordPress survey plugin. This is surprisingly easy to use but very powerful as a plugin. The plugin lets your export data to any platform after answers have been collected. It also facilitates easy and fast editing on the go.
This has been one of the most preferred survey plugins for many users as it has astronomical custom options to help create aesthetics that go well with your brand. All you have to do is choose a theme and tweak it further with all the embedded forms and colors. You can even customize the survey forms with CSS.
There is more under the hood. You truly have real control of your data as you can watch your results being generated in real-time. This will automatically filter data so that you can see where the responses come from (globally) and when the respondent has answered.
Today, more the 300,000 webpage owners applaud the continuously reliable services of the CrowdSignal plugin, so what is stopping you from giving this a go?
Surveys can look really busy and put-off potential respondents, but Modal Survey helps you avoid such mishaps. The general idea of the Modal Survey is to make it look as simple as possible supported by its design game. You do not have to work on how a button has to look; it's color, shape, or size. A range of options are available and all you have to do is pick the one that best suits your site.
Aside from its simplicity, social share buttons are embedded. Therefore, they are available on the go when you install the Modal Survey Plugin onto your WordPress webpage. But there is more to it than that.
Graphical representation of reports helps the user give visual cues about an aggregation. The plugin is also GDPR compliant. You can click here to find the details.
Other than that, the plugin was built for businesses as it has certain evaluation tests that can be displayed over a detailed chart and sheet. The plugin will seamlessly organize results that are based on categories.
See also:
1- Hubspot WordPress Plugin
2- WordPress Simplepie Plugin
3- Best Way To Create Testimonial Design in WordPress (Best 5 plugins)
Final Thoughts
To sum it up, the above-mentioned are by all means attention-grabbing agents and the best WordPress Survey plugins available online. It facilitates a very professional look at surveys you have prepared for your visitors. As you dive into the premium versions of the above plugins, you will have limitless survey options, Q&As, and embedding features.
You can also add animated visuals to help you take the personalization of your brand a step further and really create that unique look you want to make the survey engaging and a pleasure to look at.
However, WordPress has a team of developers that constantly update the website development tools. Therefore, try and find the latest versions of the survey plugins for seamless integration and performance. This will help you collect data without any setbacks. This is especially critical if your business operates in market conditions that change very quickly.