Which is the best theme for eCommerce in WordPress?
There are numerous platforms for eCommerce. However, WordPress is perfectly capable of supporting an online store due to WooCommerce. Aside from being simple to use, there are tens of thousands of themes and plugins that let you build a really strong, unique online business.
You've come to the right place if you've been considering opening an online store or if you already use WooCommerce and want to update the look of your site. We're showcasing the top eCommerce themes for online stores in today's post.
Flatsome Multi-Purpose Responsive WooCommerce Theme
The most popular and reliable theme for any WooCommerce project is Flatsome. Flatsome is the safest theme for your project since we always support the most recent WooCommerce versions.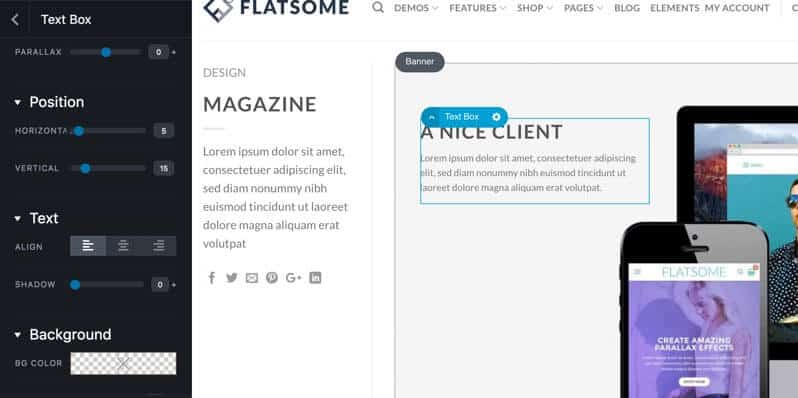 Brief Overview
Lifetime updates are free!
WPML Prepared (.po files included)
Online documentation for the SEO-optimized drag and drop page builder is available at https://docs.uxthemes.com/. Firefox, Chrome, Safari, and IE8+
Select Catalog Mode (Hide cart and checkout functionality)
Simple updates are offered to utilize the Envato WordPress Toolkit child theme.
Demo material is provided!
PSD files and resources are provided
WoodMart – Multipurpose WooCommerce Theme
The premium WooCommerce theme WoodMart offers a lightning-fast user interface for the best possible shopping experience.
Compatible with WordPress 6.0+ and WooCommerce 6.5+, the most recent versions.
The premium WordPress theme "WoodMart" was created from the ground up for creating the best WooCommerce online stores possible. With a primary focus on the user experience, WoodMart makes use of the potent AJAX technology to provide users with an incredibly quick and fluid online shopping interface without the need to repeatedly refresh pages.
Create any type of online business you can dream of with "WoodMart" for WordPress, begin generating that passive income stream you have been considering, and never look back.
One-Stop eCommerce Service
To manage your online store, the WoodMart WooCommerce theme doesn't need numerous plugins.
The majority of the functions are included out of the box; nothing else needs to be purchased. With the help of features like wishlist, compare, product swatches, AJAX filters, and a built-in slider, you can avoid installing at least 10–20 pointless plugins. Utilize our simple setup wizard to quickly launch your online business.
Panel for Theme Settings
You don't need any coding knowledge thanks to a robust Theme Settings Panel that lets you alter a variety of Theme Settings with a single click. WoodMart is intelligent, nimble, and quick without the need for numerous plugins, allowing you to get back to work. You can quickly and simply make small adjustments using the graphical interface provided by the Theme Settings page.
Completely Modifiable
Every aspect has been modified.
You are left with a highly configurable website that can quickly and easily accommodate your modification requests because it was designed and constructed to respond to your customization requirements with the least amount of hassle.
You may alter your fonts, tweak your color scheme to adhere to your brand requirements, and edit your swatches to display different product variations all from the comfort of the user-friendly WordPress admin.
geared toward Google Page Speed
Starting in 2021, one of the major variables affecting Google results is website performance. You are no longer forced to contend with sluggish websites thanks to the WoodMart WordPress theme. We invested many hours testing and putting the finest practices in the field of speed optimization and performance into practice. WoodMart has a special method for loading CSS.
and JS files only on the pages that require them. Additionally, compared to other WordPress themes, it will cut the overall page size by two to three times.
Adaptive Design
Naturally, WoodMart has a fully adaptable design that adapts to the particular device it is being viewed on. This allows you to continue doing what you do best, like putting products for sale and building a killer shop while leaving the technical details in the developers' hands.
Laptops, PCs, cellphones, and tablets have all been thoughtfully considered and integrated into this clever website theme design, so we ensure that your website will display fluently across every device type you can imagine without any more effort on your part.
Ready for Retina
Moreover, we have ensured
Ready for Retina
Additionally, we have ensured that your new website will display with the greatest pixel density available depending on the user's device. If it happens to be a retina-ready gadget, the display will come to life with really stunning colors.
You won't regret using this WordPress theme that is retina ready to make the most of your photographs.
SEO Promotion
SEO, which is the biggest term of the decade, simply refers to how your website must be coded in order for search engines like Google and Bing to be able to obtain the information they need to properly rank your page.
This entails clear code, attractive design, and support for nearly all widely used SEO plugins.
Asynchronous Javascript and XML, sometimes known as AJAX, is a powerful set of web development tools that allows a web page to connect with a server without reloading the page. The best way to see this is when browsing items. When every category change or product swatch update you make causes the entire page to flicker and reload, your website isn't AJAX powered.
Not when using WoodMart. By utilizing the most advanced technology, we were able to solve this issue by creating galleries of products of all kinds with stacks of potential types and kinds that automatically update as you choose them. It offers your consumers the kind of shopping experience you'd find in a reputable internet store today. Fulfill their expectations by using WoodMart for WordPress.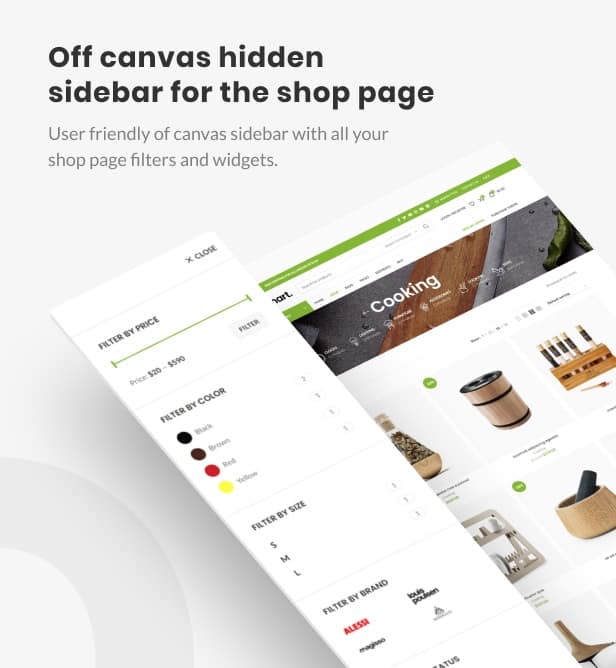 Porto Multipurpose & WooCommerce Theme
With the release of Porto 6.4.0, several new features and demos were added. They significantly improved their speed optimization wizard and achieved the highest performance ratings on ThemeForest.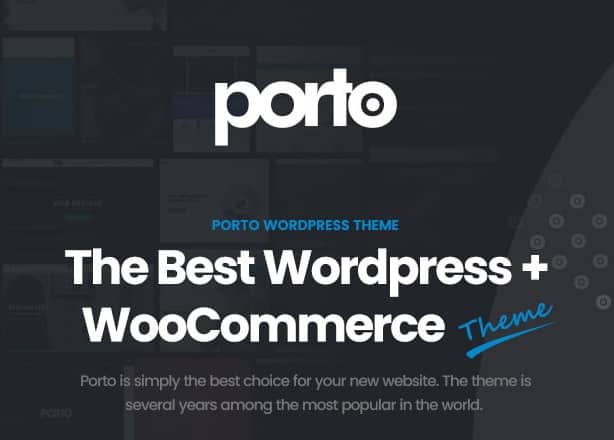 Porto introduces 5 fantastic features:
Single and Archive Builders,
Type Builder,
Critical CSS,
Merged JS and CSS, and Soft Mode.
A brand-new feature that is undeniably a significant advancement is Soft Mode. Anything can now be edited thanks to it.
Using comprehensive site builders, you may create websites without writing a single line of code.
You can speed up your site's rendering by using critical CSS.
There may be too many styles on your website, but not all of them may be employed right away.
You can escape from all of this stuff with the aid of critical CSS.
You'll be able to perform at a high level.
Another significant change in the new version is the merging of JS and CSS. Even if you don't utilize cache plugins, you may still expect good speed on mobile devices because it restricts the number of requests. Any archive post layout can be created with Post Type Builder and be compatible with your website. Regarding Single & Archive Builder, the majority of themes still wish to customize their single and archive pages. Forget it. Porto will carry out all of those tasks on your behalf and create the design that is in your head. With no cache plugins, Porto eventually raised all of its Google Lighthouse scores above 98 on desktop and 70 on mobile. For instance, a beauty parlor, a dentist, or an auto shop…
Electro Electronics Store WooCommerce Theme
To help you get the most out of using WooCommerce to power your online store, Electro is a strong and adaptable WordPress theme for electronics stores. The style works well for affiliate websites, vendor-based marketplaces, and electronics stores. The majority of the sophisticated features found on the most well-known eCommerce websites, like Amazon, Flipkart, Snapdeal, Walmart, Alibaba, and AliExpress, are integrated inside and included with it. This theme is ideal for you whether you are an Amazon affiliate, a store owner, or want a multi-vendor marketplace for your niche market.
The Underscores framework serves as the foundation for the theme. Its home pages can be created using Elementor Website Builder, WP Bakery Page Builder, or Page Templates.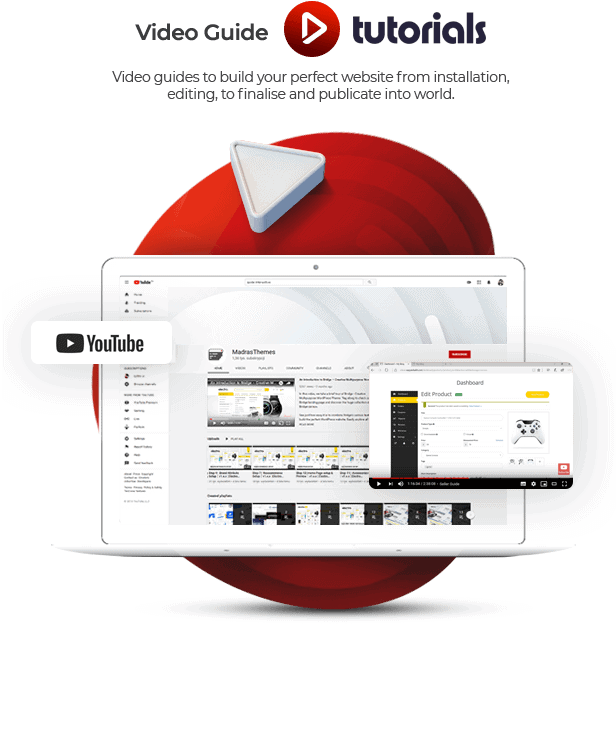 Conclusion
As we mentioned in another article WordPress is a great choice for building an eCommerce website as a CMS, But you should choose the best theme for eCommerce in WordPress that helps grow your online presence, ready to be an app that facilitates marketing your online store