WordPress visual builders are highly used plugins as they allow the users to customize their website easily. These editors are also called WYSIWYG editors. Here, WYSIWYG stands for "What you see is what you get", and this is very true with these editors.
Best WYSIWYG editors for WordPress are great for building websites if you don't know to code. If you're willing to build a website through coding, you won't be able to see what you're building until you run the code. With the WYSIWYG builders, this isn't an issue as these WordPress visual builder plugins will let you see exactly what you're doing, which is why these are called visual editors.
There are tons of WordPress visual builders out there, and surely all of them aren't created to be equally good. There are only a few visual editors that provide what they promise, and our readers frequently ask us which ones are better among them.
So, we decided to answer this very question in this article. Our experienced web developers researched hundreds of WYSIWYG editors, and they found out the best that you can get. Let's take a look at them!
Best WordPress Visual Builders:
1- Visual Composer:
When talking about WordPress visual builders, Visual Composer comes before every other plugin. It's got tons of features that make website creation a smooth and easy task. You can use this with any WordPress theme, making it a versatile website editor.
You can edit how your posts look like, and you can customize them to great lengths. Then again, there's this feature that'll allow you to change the CSS gradient background, and you can do so with alpha channel support.
Another amazing feature is that you can save the designs you create, and you can use them as templates later on. This will allow you to create multiple websites with similar designs easily. The builder is also made in a way that'll allow you to SEO your website easily.
Once you create your website with this tool, you'll also get a mobile version of the theme you created. This will allow mobile users to load your website fast and use it without any hassle.
However, it must be said that the interface of Visual Editor isn't that intuitive, which is very disappointing. You can use the basic package of this visual editor for free. You can also buy the premium feature, and it costs $59 for each website you use this on.
Features:
Drag and drop editor
Content elements
Theme builder
Popup builder
Visual composer hub
Integrations
Row developers
2- Divi Builder:
Divi builder is yet another amazing WordPress visual builder. What makes this website editor amazing is its simplicity and ease of usage. You can build everything with a simple to use drag and drop feature. What's more, is that this website editor is designed in such a way that it's very easy to create unique web pages with it.
You can create tons of different types of pages with this editor. You can create unique effects with the different effect tools, create unique shapes as per your will, edit elements across the site with a single click, change the angle and 3D position of the elements, and a lot more!
The best part about the Divi builder is that allows you to go all-out creative, and there's no bound to what you can create. If you want to combine custom CSS codes with the design controls of Divi, you can do that too!
Overall, Divi Editor is one of the best WordPress visual builder plugins that you can get your hands on.
Features:
Offers endless customizability
Custom CSS integration
46 modules
Intuitive user interface
Goes with all sorts of WordPress themes
3- Thrive, Architect:
Out of all the visual editors that we checked, Thrive Architect is surely one of the fastest. The specialty of this website editor is that there aren't any complex procedures that you need to follow to change a certain element. If you want to make changes, all you need to do is click on that specific element, click on the edit button, and make the change you want. If you want to reposition something, you can drag and drop that element to where you want it.
Thrive Architect comes with one of the highest numbers of pre-built landing page templates, and they also have the highest percentage of templates that work. You'll be able to use these templates directly and still get high conversions from them, or you can modify them to suit your needs.
Thrive Architect is a great visual editor for creating a website fast. You can create websites that'll get you a high conversion. However, you won't be getting that much customizability with this website builder, as extra customizability is removed for making this editor more intuitive.
Features:
Ability to customize easily
Website pages can be created very fast
Feature grids with icons and images
Ability to add testimonials on your website
Opt-in forms
Countdown timers
HTML table builder
4- Elementor:
Elementor is an all in one plugin that allows you to control and create multiple aspects of your website with ease. Elementor is a great visual editor for WordPress, but that's not the only thing about it. You can use Elementor to accomplish multiple things regarding your website.
It's an open-source tool, and you can use it for free for any number of websites. With the free version, you'll get more than forty basic widgets and more than 30 templates. However, there are three extensions that you can buy for your websites, and these extensions will provide you with extra features like more templates, more widgets, theme builders, etc.
The theme builder is one of the most interesting tools that you'll get from Elementor. This tool allows you to customize each section of your website according to your wish. Then again, there's the pop-up builder that'll allow you to create customized pop-ups. You can also take control of your WooCommerce store from Elementor.
Overall, Elementor is a tool that offers multiple uses and a great website builder. We highly recommend Elementor if you're looking for a one-stop solution to website building.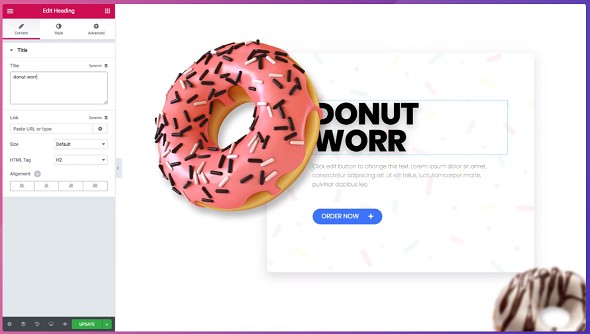 Features:
Offers easy to customize website builder
Will allow you to control WooCommerce stores
Theme builder for making customized changes
Popup builder for creating custom popups
Tons of integrations and widgets
Visual Editor Not Working WordPress: How to fix?
Fix #1:
The first step is quite simple. You need to enter your WordPress dashboard, and then you must go to the 'Your Profile' tab inside 'Users'. Here, you'll find a checkbox with 'Disable the visual editor when writing' written right next to it.

You need to check this option, and then you need to click on the Update Profile button at the bottom of the page. Once you're done with that, refresh the page pressing Ctrl+F5, and then uncheck the box you checked previously.
If there was a problem related to this fix, you'll be able to use the visual editor after this.
Fix #2:
If the previous method didn't work for you, you can try reinstalling your WordPress files. However, make sure that you have the previous files backed up before you reinstall them. If something goes wrong, you'll need to restore the previous files to ensure that your WordPress site is running properly.
This step is easier than the previous one. Once you've backed your WordPress files, you need to enter the 'Updates' tab of your WordPress. From there, click on the 'Re-install Now' button, and you're done! If the visual editor or any other relevant file was corrupted, this solution is supposed to fix it, and you're supposed to get visual editors working again.
Fix #3:
Deactivating all other plugins seem to help some people out, so we consider this as a possible solution. Sometimes, there might be some internal collision between some plugins, and this happens quite a lot with WordPress.
So, if you find that the previous solutions aren't working, you can try deactivating all other plugins except the visual editor. If there's any collision between WordPress visual builder and the other plugins, then you're supposed to use the visual editor if you deactivate the other plugins.
Fix #4:
If the previous solutions didn't work out for you, you can try customizing the config of your WordPress client. In this solution, you'll have to edit the wp-config.php file by yourself, accessing the cPanel from your WordPress dashboard.
You need to go to the 'File Manager' first. From there, you'll find tons of different files and folders. You'll need to select public HTML from there, and then you need to find and access the wp-config.php file from there.
Right-click on this file and then click on the 'Edit Code' button. You'll find a line that says ('db_collate',");, and you need to paste "define('CONCATENATE_SCRIPTS', false);" right below that line of code. Once you're done with that, you need to hit save, and then try running visual editor. If there was any problem with the coding, this ought to fix it.
What if none of these fixes work for you? Well, in that case, you'll have to contact WordPress for a solution. You can also try asking for solutions in different online forums. Many experienced users can provide an in-depth answer to your question, so try seeking their help.
WordPress Visual Builder Missing Text and Buttons?
Some of our readers have faced a problem where the text and buttons of their WordPress Visual Builders seem to be missing. While this is a major issue, there are some simple, yet lengthy solutions to this. If you follow the procedures that we'll mention below, you'll be able to fix this problem.
1- Clear Browser Cache:
The cache files are essentially the files of the website downloaded on your hard drive so that the website can be loaded faster and more easily. The cached files are very useful if you want to have a smooth experience, but if these files become corrupted, they might cause a nuisance.
Now, it might be the case that you can't view the Visual Editor because the cache file of that plugin became corrupted. In this case, you'll need to clear the cache file. Once you clear the cache file, WordPress will redownload fresh data, and you won't face this problem anymore.
2- Troubleshoot the Plugin:
Sometimes, the plugin will cease to work if the theme is backdated, or the plugin is. In this case, you need to update your plugin and your theme to their latest versions. This will eliminate any existent clash between old and new codes, and you'll face no problem at all!
Another way of doing this is deactivating all of your plugins, and then reactivating them one by one. In this way, you'll be able to pinpoint which plugin is creating the disparity.
---
Conclusion:
WordPress website visual editors are great plugins that'll allow you to create websites easily. All of the plugins mentioned above are unique, and you need to pick the right one for you according to your requirements and preferences.