9 Best WordPress Plugins for Twitter Feed on WebSite
We have compiled a list of the latest and the best Twitter feed on web site WordPress Plugins for your website so that it improves the chances of adding likes, tweets, and follows to your webpage.
We are already aware of the astronomical amounts of plugins available for WordPress. Twitter has been a hot topic on social platforms since 2016. This social media platform has been one of the most critical elements of broadcasting news and opinions from notable leaders around the world and having a spark of Twitter in your WordPress webpage will only make your content ever so credible.
You can read more about why and how you should integrate Twitter into your website here. But now, we are going to discuss what should be your top pick when it comes to integrating the best Twitter plugins specifically built for WordPress. The Twitter feed for WordPress really enhances the overall website experience for users.
Why Integrate WordPress and Twitter?
There are several types of integration you can consider. From the haystack, you can either choose to show tweets on your sites or showcase your blog content in your Twitter stream.
Show Profile Widget: You can choose to provide a link to your Twitter profile on your webpage through a handle or a Twitter avatar.
Display Latest Tweets: You can showcase your recent tweets in the sidebar, on a widget, or at the footer of your webpage through a plugin or a widget.
Post Content on Twitter: Anything you put on WordPress will be automatically pushed to your Twitter account by pulling the information from the RSS feed.
You can choose to work with the above options, but you need to use plugins to make the process simpler.
Here is a list of the best Twitter feed on website WordPress plugins available online:
1. Twitter Feed plugin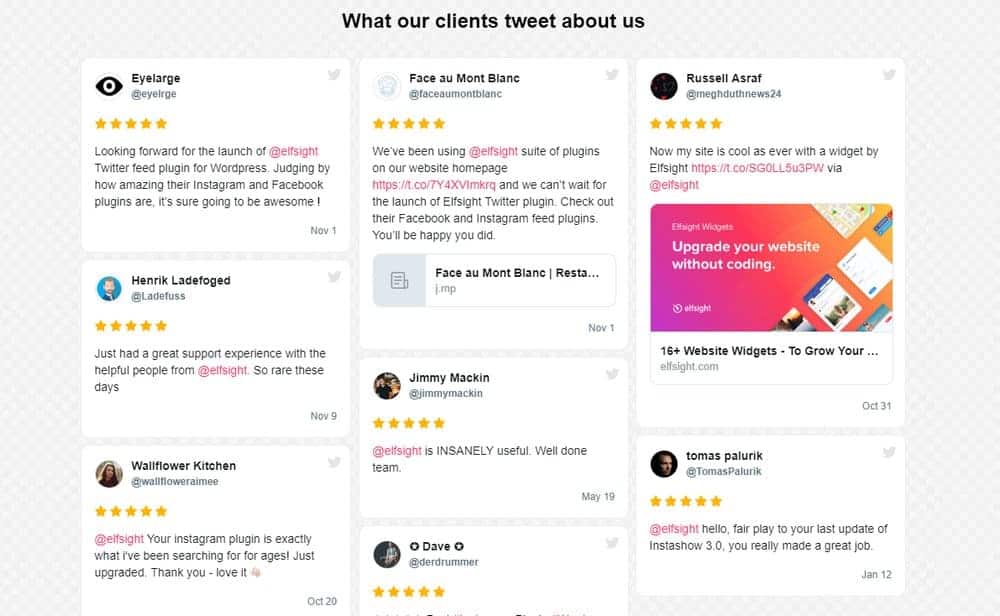 You can reap the benefits of a micro-blogging platform in several ways including Twitter feeds and testimonials. Twitter Feed is a WordPress plugin that helps you do that for seamless integration of your WordPress website and Twitter.
The process is very simple from the start as the plugin facilitates direct integration of your website and Twitter to embed hashtag feeds, Tweet grids, Twitter accounts, and more. Twitter testimonials are an added feature that can display your post anywhere on your webpage.
The package also includes a WPBakery page builder widget which allows you to integrate Twitter feeds and post while you create new pages on your website.
2. Social Timeline – WordPress Social Stream
The Social Timeline is an effective plugin built for WordPress that facilitates the making of a content timeline from all your social media posts. This plugin seamlessly works with Instagram, Facebook, Twitter, and YouTube. Furthermore, you can choose a combination of posts from multiple social media platforms or just one social media network. It is all about how you mix and match the content to drive more traffic to your website.
In addition to that, the plugin goes beyond social media integration by helping you display a timeline of company growth and product development and also highlighting the most critical moments of your life as well. This plugin helps you connect to your visitors on a deeper level.
3. FS Poster Plugin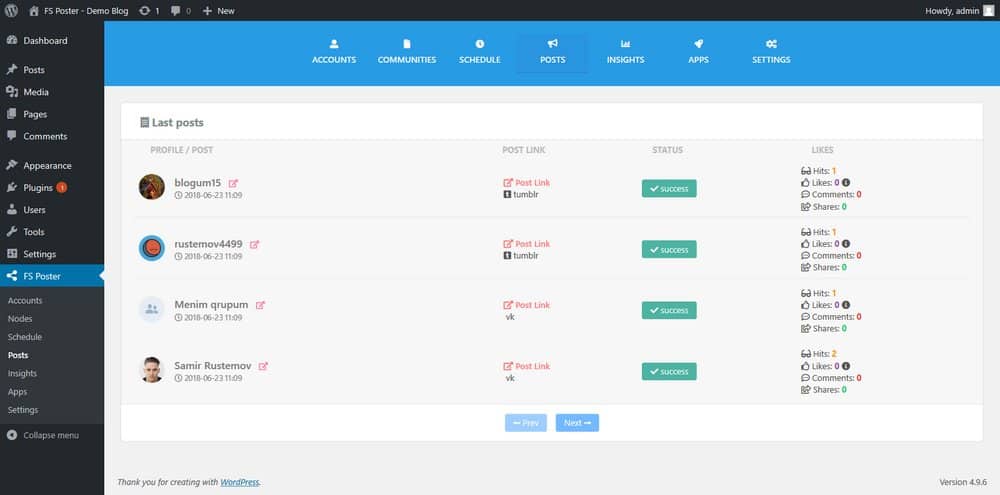 This is a plugin that allows you to post up to 12 types of social networks at a time, including Twitter, automatically. This plugin also comes with a lot of quirky features that can help you share content, increase your followers, and amplify your reach.
Furthermore, with FS Poster, you can choose when to post content and from which social media network. However, it can be really difficult at times to keep a track of all the scheduled posts. Fortunately, the FS Poster plugin facilitates a calendar view of the scheduled posts on all specific platforms. This is helpful when the plugin is being used with unlimited social accounts across all social media sites. Therefore, having a detailed view is critical.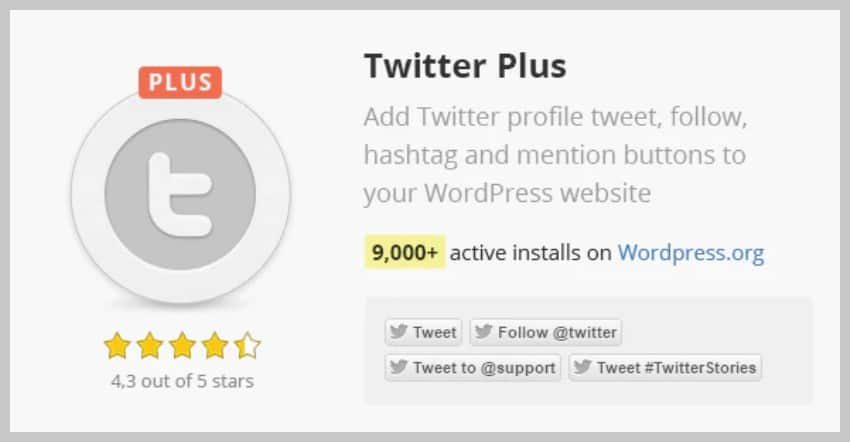 In a world of 55,000 plugins for WordPress, Twitter Plus makes things so much easier for you to incorporate Twitter buttons into all of the pages and posts you make on your website. After proper integration, the plugin will add Twitter buttons to mention, follow, tweet, or hashtags on every page and post that you select.
Other than that, there are a number of customizable features included in the package for specific buttons. The button can be used to direct a visitor to follow a certain account and display the user name at the same time. Moreover, you may want to set a tweet text with the page title or any other custom value for every tweet, mention, or hashtag.
This plugin really helps you diversify your approach to how a plugin works because the same type of functionality on every page can often become monotonous for your visitors. Different buttons can be used to show different posts but you do not have to show all the buttons at once. Be conservative and only pick the ones that are most relevant to avoid confusing your visitors.
5. WordPress to Twitter—Twitter Bot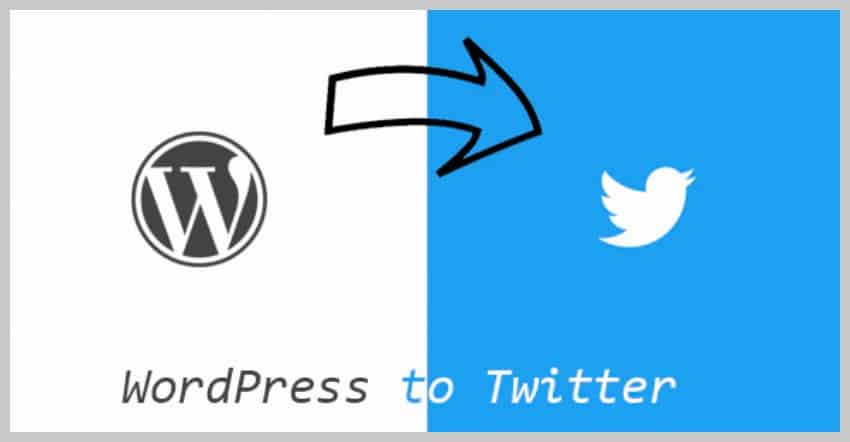 Developing, maintaining, and running a website is a lot of hard work. Therefore, it is a no-brainer that you automate a few tasks and use the time for other critical activities, such as enhancing your overall website experience.
The above-mentioned "WordPress to Twitter" plugin lets you do exactly that. After you have purchased the plugin, simply integrate it with WordPress so that you can post different types of tweets from all the categories that you want.
The paid version also facilitates certain features such as the time interval between tweets. You can also make the plugin post the title or add a link to the tweets being posted. Furthermore, you can add texts, hashtags, or mentions with every tweet. Therefore, this plugin is a great resource to help you save a great deal of time. If you can simply automate some of these tasks and reduce the workload, you can focus on more important issues such as how to work on outreach at a greater scale on social media platforms.
6- AccessPress Twitter Feed



This is one of the most preferred WordPress plugins to date. Its popularity stems from its ease of usability, easy installation process, feature-rich, and comprehensive customizability.
You might wonder that something that is very easy to use may skimp on quirks and features. However, this is not the case as mentioned earlier. The powerful plugin lets you post real-time tweets from selected Twitter accounts directly to your WordPress webpage. The view can either be made to be in a slider form or a classical form.
That is all from the free version. For a more premium experience, you pay a fee for added benefits, such as posting feeds from multiple Twitter accounts, with a slicker and distinct look. The paid version has a plethora of themes you can choose from; of which 12 are handcrafted to satisfy your visual nerves. All in all, this is a lightweight plugin that really packs a punch.

Instead of posting several tweets all at once, this nifty plugin shows one tweet at a time. This becomes very useful when you need space on your website for other functions. You can simply allocate a suitable space for the Twitter feed to show one tweet at a time on a rotating basis and this helps free up critical real estate on your webpage.
This plugin is very customizable as well. You can choose the type of tweets to show in rotation i.e. your most preferred tweet on the user timeline. It also lets you choose to display comments, and retweets, customize the way in which the tweets are displayed, the type of rotation, and also adjust the speed at which the tweets rotate.
If you want to show tweets from more than just one account, you can do that too. This plugin has added support for multiple user accounts so that you can show your preferred tweets from your more favored Twitter accounts. The best part is that it is very easy to use with an easy-to-understand UI.
Rotating tweets are dependable as they will continue to work even if the Twitter site is down. Furthermore, the plugin will adjust its real estate as the webpage is resized. This helps the plugin look like it really belongs to your webpage. Besides, the plugin does not violate privacy concerns as user data will not be sent to Twitter at all. This is why all WordPress users should consider using Rotating Tweets at least once to understand their true potential and in-depth capabilities.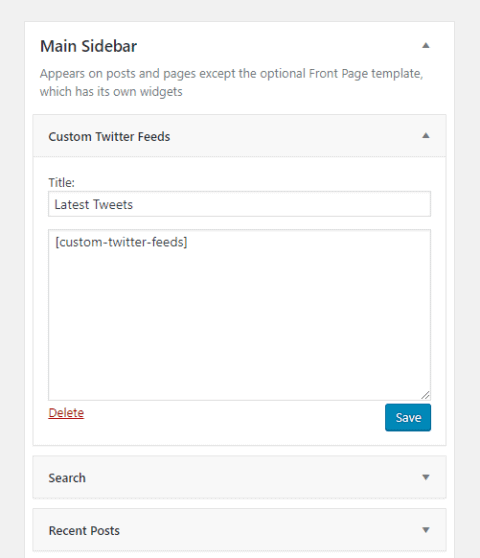 With state-of-the-art compatibility built into the Custom Twitter Feed Plugin, it seamlessly adapts to your overall WordPress theme look and feels. It is very customizable, and unlike most Twitter plugins, this one embeds Twitter feeds onto your webpage directly.
This makes your webpage readily accessible for SEO purposes as your page becomes a hub of content for search engines to crawl over. This really enhances your site's outreach by showcasing twitter feeds from several accounts and this further adds valuable content to your website so that you get preferential treatment from SEO. This is how you can truly lay out an engaging experience for your visitors.
Furthermore, this plugin also adjusts itself for small-screen real estate so that visitors can easily view the content from their phones or tablets. The algorithms on which it is built make for super-fast loading times for all Twitter feeds as nobody likes a slow plugin that takes forever to load content.
You also get live support for the Custom Twitter Feed plugin. Users claim that the product support for the free version of this plugin is better than the services provided by premium versions of other plugins for WordPress.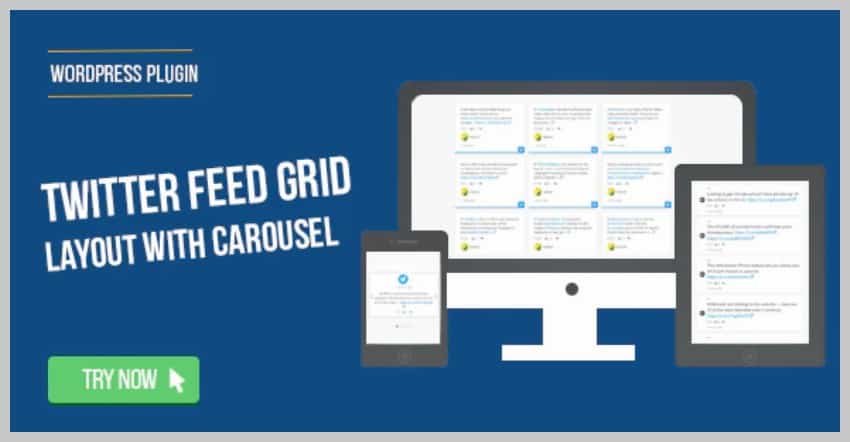 This one is quite different from the abundant twitter plugins available online. Aside from being able to show Twitter feeds from several accounts, you can show the feed as a carousel or as a grid. When they are displayed as a grid, there are a number of options to adjust parameters such as the number of columns that can be displayed on a tablet, a phone, or a computer. Besides, you can either choose to have a wide layout or a boxed layout.
To go a step further, the developers added seven types of grid styles to choose from and display your Twitter feed. In addition to that, if a visitor hovers over a particular feed, the plugin will display a range of share buttons so that visitors can share the tweets on their social media accounts.
The carousel comes with eight other forms of layout in order to showcase several tweets directly onto your webpage. Here is a live demonstration of the plugin at work.
See also:
1- Best WordPress Instagram Plugins
2- Best Way To Create Testimonial Design in WordPress (Best 5 plugins)
3- Simply Schedule Appointments WordPress Plugins (11 Best Plugins)
---
Final Thoughts
With a number of Twitter feed on website WordPress widgets and plugins out there, these are some of the best ones we deem to be very effective at seamless integration and customization. However, there are some factors that you want to consider when working with Twitter feed on website WordPress Plugins.
It is important to not always fill a website with Twitter feeds as your website will completely lose its purpose. You also want to avoid using too many sharing options of such twitter feeds on every page you have. This can be very distracting as follow and like buttons from other social media platforms will completely encumber your webpage and void the grounds of your work. Only post content that is of relevance to your site so that it could work on creating a unique effect.
Unless you want the visitors to go surfing your competitors' websites, keep away from posting each and every article with a social locker.