Choose WordPress Theme for Your Website – Full Guide
How To Choose WordPress Theme? Most people in the world of web design and web development are already familiar with WordPress themes. Many beginners think of these themes as the "skin" of the website – making your website look elegant and beautiful.
Whilst this is one of the many tasks WordPress themes accomplish, they also play vital roles in your website's security, performance, and rankability.
Therefore, knowing choosing a proper WordPress theme for your website is very important. This article helps you understand How To Change WordPress Themes.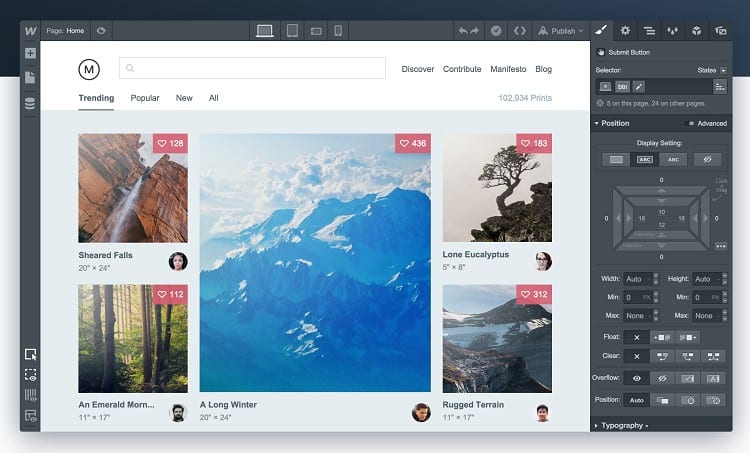 Why Choosing a Theme Matters?
You might think that a WordPress theme simply determines the look of your website on the outside. However, themes are much more than that, and they are the most crucial part of your site.
A WordPress theme is a skin that determines how your blog is going to look, function, and behave on the front end and back end. This is what makes WordPress themes so important. They are the backbone of your website, and the entire structure of your website will depend on its theme.
WordPress is a blogging platform that can be used to create a variety of blogs and websites, and these blogs and websites serve different purposes. You might want to create a website on WordPress that serves as an online store, whereas someone else might just be looking to start a sports blog.
Depending on your content, your theme should vary as well. In other words, you need to choose a theme that complements the content of your website. For example, having a theme that improves readability can be a good idea for a blog that focuses on political issues.  
Besides, WordPress themes matter in terms of performance as well. Although there are built-in options available, you generally have the option to customize them as you please. If these themes are not coded properly, it becomes difficult for you to change themes or other plugins, and might cause your website to break.
Other themes can add elegance to your site visually but might slow downloading times. This will affect your ranking in Google and other search engines, costing you valuable audiences and potential customers.
All things considered, themes play a vital role in your website design, and therefore, your possibility of generating traffic. Therefore, you need to know How To Change WordPress Themes properly to get the best use out of your site.
Should You Choose a Free or Paid Theme?
WordPress is such a vast platform for website development that you have a huge collection of themes to choose from. Tens of thousands of these themes are completely free, and they can be great if you're running tight on a budget or have just begun blogging for the fun of it.
On the other hand, if you're serious about your site and have money to spare, you can also buy paid or premium themes that are designed by professional web designers and companies, and always kept up-to-date.
Both free and paid websites have their own pros and cons, which brings us to the question: should you choose a free theme or a paid one?
Free WordPress Themes
The biggest advantage of free WordPress themes is that it's free. You do not have to spend any cash on it. All you have to do is go to the WordPress Dashboard theme selector, choose the theme you want, and install it.
On the other hand, many free themes do come with limitations. The fact that they are free means that many of these themes are not updated regularly, or completely abandoned.
Besides, these themes are often made by hobbyist web designers, so there's a possibility that the coding is a mess. What's worse is that some themes might have malicious code inside them, if you download your themes outside of WordPress.
Paid WordPress Themes
The alternative to a free WordPress theme would be a paid one. These themes can cost anywhere from $10 to $100, and needs to be downloaded separately and uploaded to the WordPress dashboard. These themes are usually more professionally designed and regularly updated, and also allow you to receive support from developers for a fixed period of time.
The downside is that they can be expensive, so it might not be a feasible option for everyone.
When you're figuring out How To Change WordPress themes, you need to consider more than your budget. Here are some of the most important factors to consider when choosing a WordPress theme:
What Does Your Blog Need?
The first thing to consider when selecting a WordPress theme is what your priorities are. This means you need to have a clear idea of what your blog or website is trying to achieve, and the types of functionality it will need. Is it an online store or a podcast blog or is it text-based?
What niche does your blog have? Is this a blog for raising awareness or does it have a financial incentive behind it? These are important questions to ask, and the time of theme you will go for depends on these answers.
Is the Theme SEO-Friendly?
SEO (Search Engine Optimization) is probably the greatest way you can attract new visitors to your site. All good websites and blogs are optimized for SEO so that Google's crawlers can navigate the website more easily, and thus, rank it higher in the search results.
What many people don't realize is that your theme determines your site's SEO-friendliness as well. Your website could have the best aesthetic, but if it's poorly coded – your site's rankability is going to suffer.
If you're unsure about your theme's SEO-friendliness, you could opt for a premium theme that is generally more optimized. You can also use the W3C Markup Validation Service to check if the page generates proper HTML5.
How Responsive is Your Theme?
Once upon a time, during the early days of the Internet, optimizing your WordPress theme for computer browsers was enough. Sadly, this does not work anymore.
Today, a significant portion of online traffic comes from mobile phones, tabs, and other devices, and Google rewards mobile-friendliness with higher rankings as well. Therefore, you need to choose a theme that is responsive across different media.
How do you know if your theme is responsive? An easy way to check that would be by resizing your browser, and seeing if the theme layout is changing accordingly as well. You could also copy the URL of the theme's demo page, and check it in Google's Mobile-Friendly Test service.
Is Your Theme Browser Compatible?
Sure, you might have chosen a theme that is responsive to both mobiles and desktop PCs. However, it would be pointless if it only works with Google Chrome. People use different browsers – Firefox, Edge, Opera, Safari – some might even use the now-redundant Internet Explorer! You need to make sure your theme is compatible with most browsers so that all users can access your site.
A good way to test this is by running the theme on different browsers, and checking if it is working perfectly. Remember to test them on mobile browsers as well, as that is where a large part of your traffic might come from.
What Plugins Does Your Theme Support?
The real magic of WordPress lies within plugins. There are plugins for anything and everything in WordPress, and these are essential for you to customize your website exactly the way you want it.
You might want to customize your header and footer, add an email opt-in form, or reorganize your comment section – you can do all these using plugins. Therefore, it's a good idea to plan out what your website might need, and look for a theme that supports the plugins you might use.
How Fast Does Your Website Load?
You might think that the theme of your WordPress website might not be important for your website's performance, but in fact, they both are correlated. A poorly coded blog will affect your website's performance, and slow it down for your users.
Some WordPress themes rely heavily on images and script requests that slow down your websites, whereas others have streamlined codes that load smoothly and minimize delays.
A good way to check whether your theme is by running your WordPress theme's demo on a site like GT Metrix. The site will list all the bad requests, poor CSS code, etc. and you can see for yourself if these are fixable, or should you go for another theme.
How Are the Reviews for the Theme?
This applies to anything that you buy or download on the Internet, but this is especially important for your WordPress theme. The reviews and ratings will tell a lot about what problems users have faced when using the theme, as well as the perks of the theme they have loved.
The reviews and ratings will also tell you if your theme is old or redundant. This is will tell you if the theme is redundant, which can leave you vulnerable to security risks as they have not been updated to the latest security patches and protocols for a while.
Does Your Grandma Like It?
This might seem ridiculous at first, but this is one of the most important things to consider. When you're choosing a WordPress theme for your website, you need to remember this: you are creating this website for your audience, not for yourself.
Therefore, you need to ensure that you choose a WordPress theme that is as simple and intuitive as possible so that even beginners like your grandma can use it.
It's important to keep in mind that most of your website traffic will come from beginners and people who are not familiar with your website. Your website needs to be simple enough so that they can navigate exactly where they want to right from the beginning. Otherwise, your visitors might get frustrated, and choose to visit a competitor site instead.
If a theme looks great but does not help you get new business or subscribers, then it is not a good theme. It is also not a good theme when your users can't really find their way around your website.
---
How to Install a WordPress Theme?
In broad terms, a WordPress theme is a piece of code that is packed together to be installed in a few clicks in your WordPress blogs. You can install your themes directly from the WordPress admin area or have them installed manually as well.
If you plan to install the theme manually, you need to download the theme's zip file to your computer.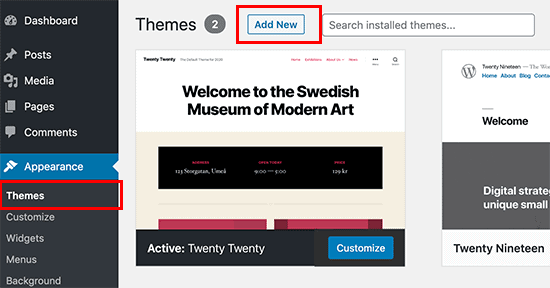 Source: https://www.wpbeginner.com/beginners-guide/how-to-install-a-wordpress-theme/
Then, enter the WordPress admin area and click on Appearance > Themes. Here, click on the Add New button near the top of the page.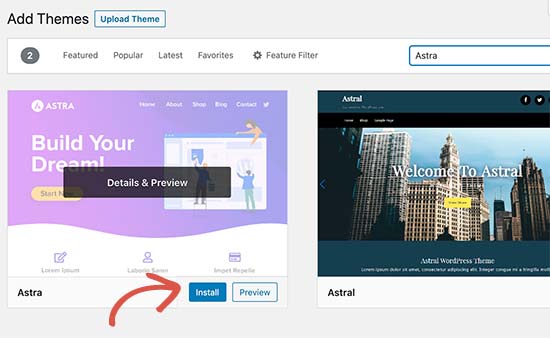 Source: https://www.wpbeginner.com/beginners-guide/how-to-install-a-wordpress-theme/
This will take you to a page called Add Themes. If you haven't already downloaded a theme, you can look for a theme here. If you already have a zip file downloaded, click on the Upload Theme button at the top of the page and choose the zip file of your theme.
Once the zip file is uploaded, click the Install button to have the theme installed. You can now click on Activate to make it go live on your website right away, or click on the Live Preview button to check what your website would look like.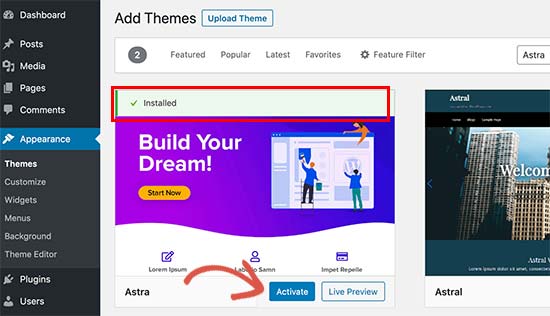 Source: https://www.wpbeginner.com/beginners-guide/how-to-install-a-wordpress-theme/
However, if you're satisfied with the theme, you will have to activate the theme anyway for it to show up on your website.
See also:
Best and Fastest WordPress Themes
WordPress Best Themes for Blog
Blo WordPress Theme (Corporate Business WordPress Theme)
---
Conclusion
To conclude, remember that there are a lot of WordPress themes available – varying in terms of price, performance, aesthetic, user-friendliness, and much more. Each theme serves its own purpose, and what theme you would choose would greatly depend on what you are trying to achieve with your website.
We hope this article has helped you in understanding How To Change WordPress Themes or How To Change Theme WordPress for your blog. So wait no further, and start shortlisting themes for your website right now!